∞
Yamanashi Daibosatsurei Hike - 100 Mountains of Japan
On Saturday 28 Oct 2023, my daughter K and I drove out to Yamanashi prefecture, for a ~10km hike at Mt. Daibosatsu ("Daibosatsurei" 大菩薩嶺 2057m). The hike took about 6 hours, with about 650m of ascent and descent from parking 4 down by the lake. A fantastic day, and the 6 hours of driving was well worth it.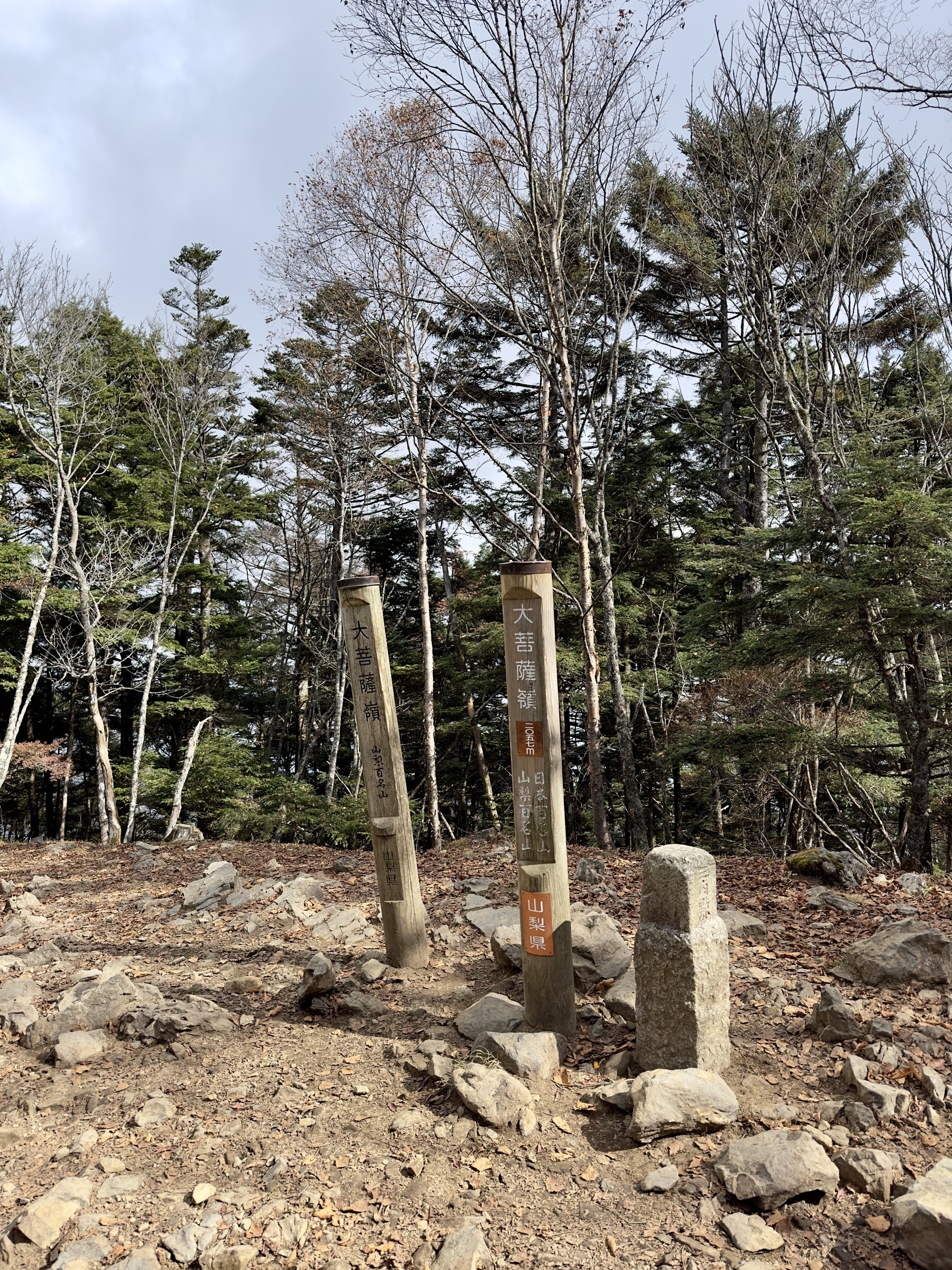 Daibosatsurei Background
"Daibosaturei" is one of the "100 Mountains of Japan" (after Kyuya Fukada's book), located in Yamanashi Prefecture in the Chichibu-Tama-Kai National Park (in the "Kai" part), straddling Koshu City and Kitatsurugun, and feeding the Tama and Fuefuki rivers. Here, hiking season is May, and Oct/Nov.
People learned the origin of the mountain's name from the Records of Kai Province ("Kai Koku Shi" 甲斐国志), where it's written that Minamoto No Yoshimitsu got lost on the mountain, and a wood cutter led him to safety, but suddenly vanished1. Yoshimitsu is said to have prayed to the Bodhisatva (Daibosatsu) Hachiman 2 to give thanks for saving his life.
Getting Started
We left Yokohama just before 5am in the dark, but the two hour drive according to Google Maps took three, and when we arrived around 8am, parking lots 1, 2, and 3 were full, and we were directed to lot 4 down by the lake. Fortunately there was a "porta-potty" style toilet in the lot, so we used that and headed up road and trail to get to the trail head proper.
The hike started in quite an idyllic fashion, walking on a groomed trail with a gentle slope, over wooden deck structures through a lovely forest with bird song and the "waka waka" call of squirrels. We noticed our cell signals were quite weak here, and could not start our Yamap apps to record at first. It eventually worked as we walked along.
In fifteen minutes or so, we arrived at Lodge Chobei3 (ロッジ長兵衛), where the parking lot we'd wanted to use was. Here, we bought Daibosatsurei badges for our collection, and proceeded on our way, but they have food and other souvenirs as well. There's also a public toilet nearby, which I marked on my annotated map.
The trailhead is "Kami-hikawa Touge" (上日川峠), "touge" being mountain pass. This is the name used for the first part of the north-east-bound route up Daibosatsurei, for three (free) parking lots nearby, for the bus stop, and for the dam down near where we parked. Triers should note, the trail head is about 19 or 20km from Chuo Expressway Katsunuma IC by car on a narrow winding road, or by the number 14 bus bound for Kamihikawa Touge, from JR Chuo Kai-Yamato station. It's an hour whether you're driving or taking the bus.
From the trailhead, it's not far to "Fukuchan-sou" (副ちゃん荘, where "sou" indicates lodging), and the hike is similar to the first part - easy going, on packed dirt with leaves, pine needles, and some roots. Fukuchan-sou also has food and souvenirs, and a plaque on the outside of the facility states that the (at that time in 2002) Crown Prince Naruhito and Princess Masako rested here during their hike up to Daibosatsurei. It would not be an exaggeration to say that Kyuya Fukada's "100 mountains" book gained popularity because the (now) Emperor mentioned enjoying it.
Our Route Up: Karamatsu Ridge
Fukuchan-sou marks what's called the "Karamatsu-one" (唐松尾根, where "one" is ridge) Junction, where there's a public toilet, and where you can elect to go up to the summit clock-wise via Karamatsu Ridge or counter-clockwise via Daibosatsu Pass. After a brief rest and use of the facilities, we turned left here and went up Karamatsu Ridge, because the views are probably better that way and you tax your legs on the steeper part, while they are fresh, and have a more gentle descent.
One thing we noticed is, from right around Fukuchan-sou, the trail gradually turns gravelly, then it changes to a bed of small rocks, which continues pretty much the whole way. I saw a couple people wearing regular sneakers, but you're going to end up with pretty bruised feet if you do that. Proper hiking boots are recommended on this hike.
The Karamatsu ridge route gets steeper as you go along, and there were a couple spots where I needed to use my hands for stability as I clambered up, and some areas that were simply just crowded with people in what felt like a queue, but there was nothing that was overly risky. A couple people even brought their dogs (even a French bulldog in a halloween costume).
Lunch at Lightning Rock & Daibosatsurei Summit
Eventually you get to what looks like the summit, but it's actually the "Rai-iwa" (雷岩 lightning rock). This is where we stopped for lunch.
Due to the crowds, there weren't really any smooth rocks to sit on, so we got our sit pads out (recommended!) and made do, boiling some water for instant soup. Rice balls and soup were quaffed while we took in the gorgeous view, and did some people watching, listening to the various languages of the tourist hikers.
From the Rai-iwa, it's a short jaunt to the summit, where the views are definitely not so great, kind of obscured by trees. A fellow trekker offered to take our photo by the summit marker, so we took him up on that. Now we earned the badges we bought at the foot of the mountain. Back at Rai-iwa, we climbed up on top of the rock crag for the wonderful view to the south, paused a few moments, then started our descent via Daibosatsu Touge (大菩薩峠).
The Descent via Daibosatsu Touge
Daibosatsu Touge is a "saddle ridge" pass extending about 2km south-southeast ward from Daibosaturei, and affords hikers just stunning views of the surrounding area, as well as mountains such as Kurodake, Genjirodake, and of course the famous Fuji. This day, Fuji was under a bit of cloud cover, but we got some fleeting glimpses of her mass. Part way down, the view opens up and you can see all the way to where the pass summit is marked, at Kaizan-sou lodge.
Daibosatsu Touge is the name of an unfinished 41-episode serialized novel by Kaizan Nakazato (中里介山), from whom the Kaizan-sou lodge gets its name. The novel is said to be popular even today, and was published in national papers from 1913 to 1941 4, telling the story of a murderous swordsman. It was given a dramatization in the eponymous 1966 film, translated as "The Sword of Doom" in English. Search and you'll find a few videos on YouTube including an old trailer.
Sudden Weather
During our descent, around "Kanbe-iwa" (神部岩)5 , K asked "did you feel that? It's starting to rain." It seemed like rain at first, and as it started to come down, it became clear it was hail. Eventually it got strong enough that we decided to layer up in rain gear, and cover our packs. The line of hikers on the trail all paused at once to do the same thing. It was odd, because we could see the sun across the valley, but were right inside this cold weather. Goes to show, you need to be ready for anything in the mountains.
Just before we got to Daibosatsu Touge, the weather was already clearing up and people were coming out of an emergency shelter. Probably there was no need for it today, but it is nice to know it's there if you need it. The name is a little disconcerting, "Sai-no-kawara" (さいの河原), the riverbank in Buddhist canon where Jizo Bodhisatva helps children who died too early avoid evil spirits so they can cross over.
Finally we arrived at the Daibosatsu Touge 1897m elevation marker and Kaizan-sou, where you can have a break, buy some souvenirs, or use the public toilet. There are two ways down from there, one further south to Mt. Kumazawa and back, but we elected to take a hard right before the toilets, to take the shorter easterly route past Fujimi-sou (富士見荘), and back to Fukuchan-sou.
Finishing up
There are some steep areas on the way down, but nothing too hard, and it really gets easier and easier as you get closer to the junction at Fukuchan-sou, with some lovely autumn colors and scenes. From there, it was an easy hike back to the parking lot, where we worried it was going to be impossible to get out, due to how people had randomly parked. We were one of the first cars in lot 4 in the AM, so we were waaay back in the corner of this lot.
We found a day-use onsen called Yamato-tenmoku, chucked it in the navi, and it was a welcome rest after our hike. It took 30 or 40 min to drive there, and we had a scrub and a soak6, a snack, and were on our way home for a big meal. All in all, it was a really lovely day!
If you're interested, check out the route map on my Yamap activity URL or see the fly-by video. Hope to see you on the trail some time! 🌋
---
Here's my assessment of this hike using the Japan Mountain Hike Grading scales:
Japan Hike Grading Assessment

| Ranking Criteria | Details | Level |
| --- | --- | --- |
| Stamina | (5×1.8) + (10×0.3) + (0.65×10) + (0.65×0.6) = 19 | 2 |
| Technical Difficulty | Well marked and maintained, but some slip risk | B |
---
See the photo gallery and Yamap activity record.
Route map, see also on Google Maps (other hiking maps available too):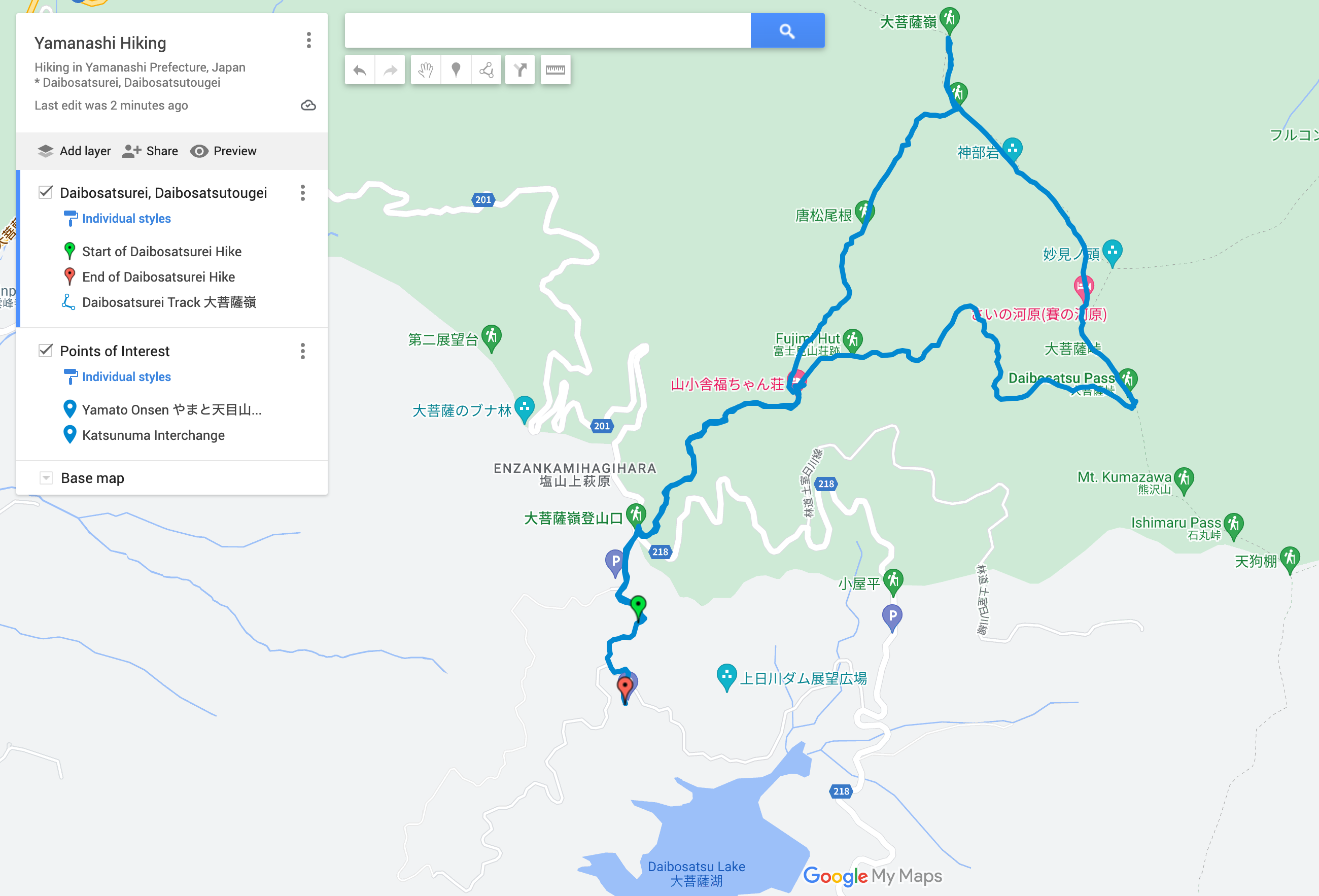 Hypnotic fall colors at the start of the hike: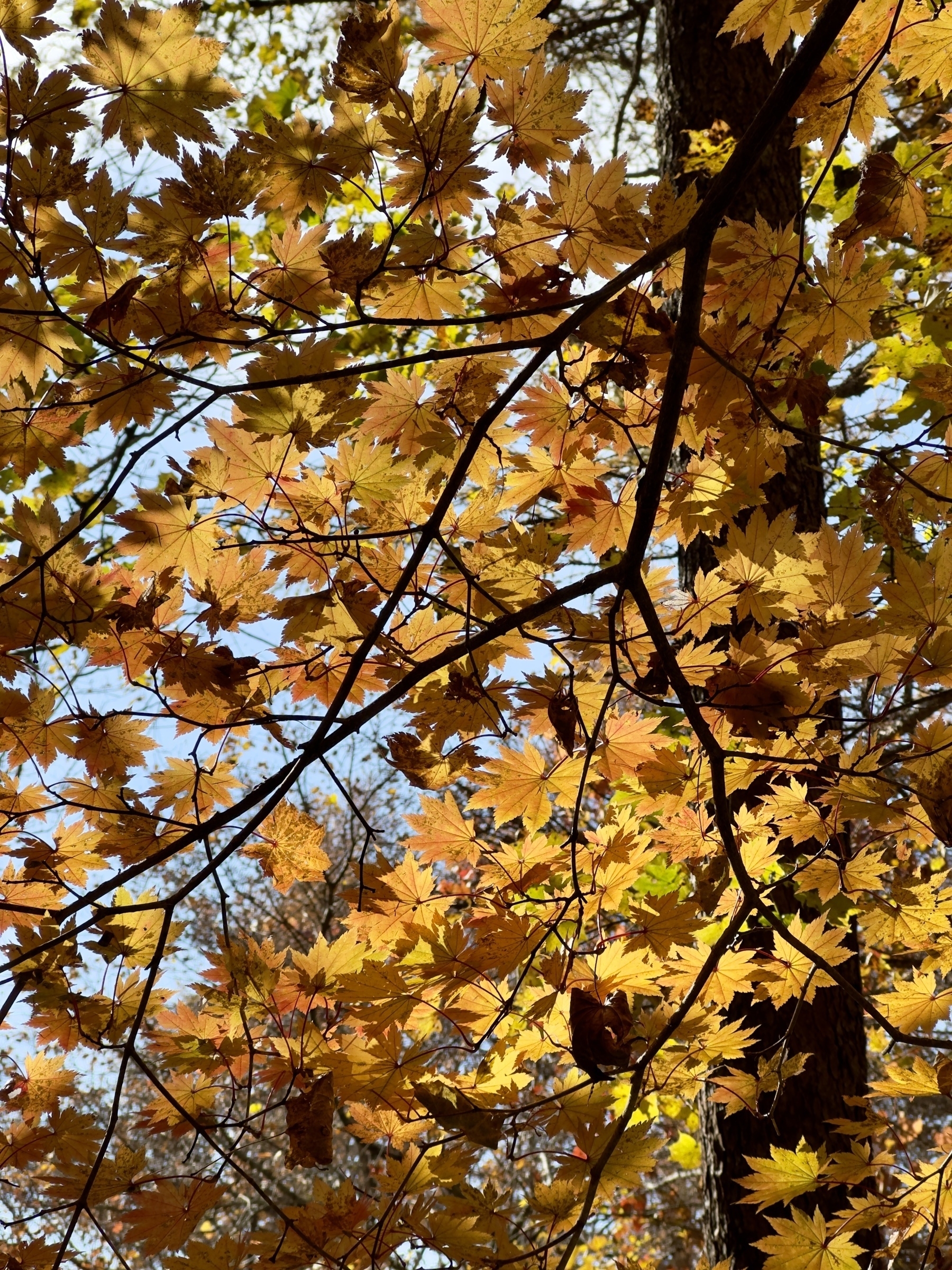 This plaque states that the Crown Prince Naruhito and Princess Masako of Japan (now the Emperor and Empress) rested at the Fuku-chan hut during their hike in 2002:
The trail is mostly like this, so sturdy hiking boots are recommended: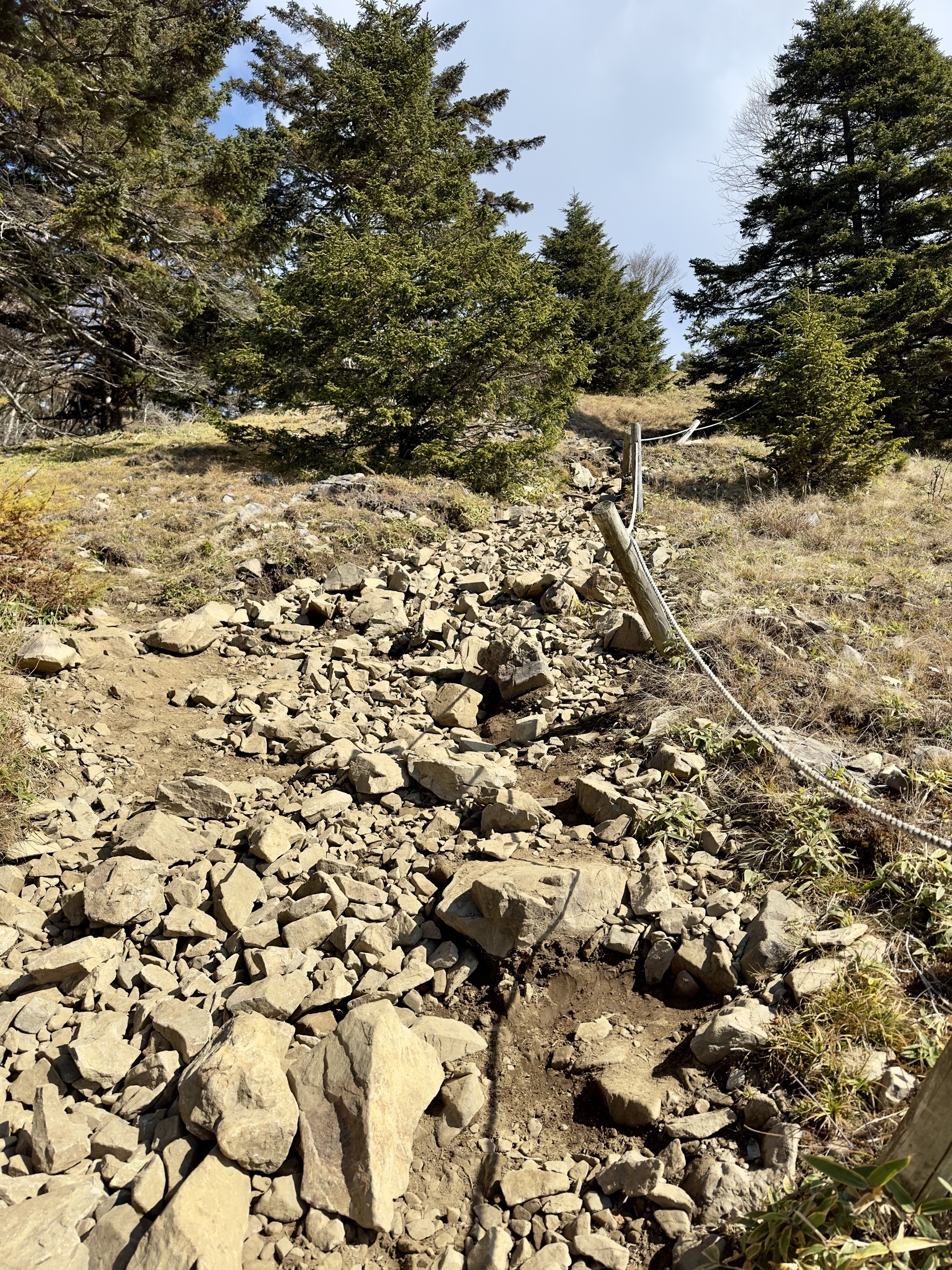 Bring a mat to sit on at or near the summit, since it's pretty much all rocky: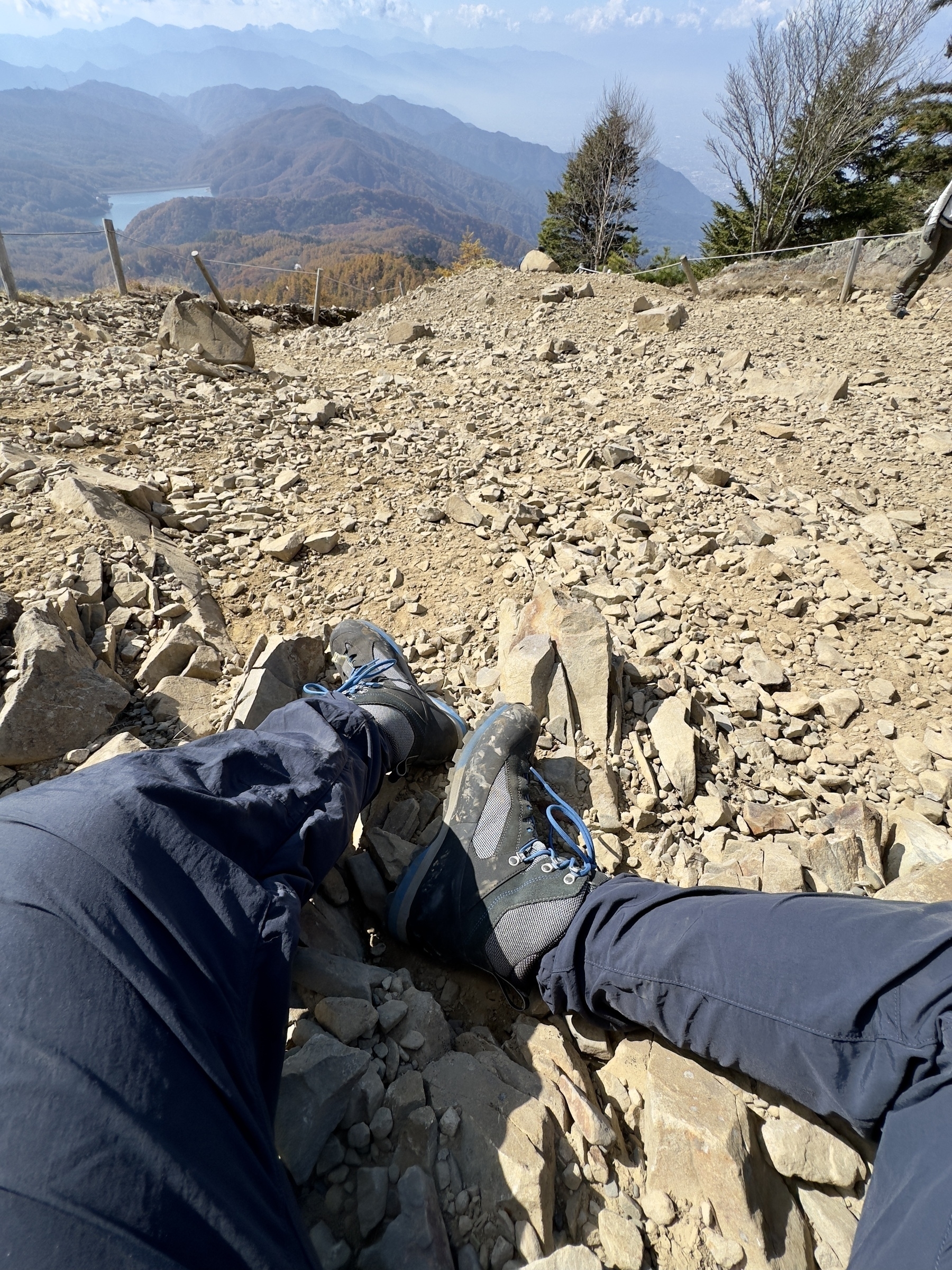 Someone said it's not about the hike, but about getting to eat in cool places… (thanks for the soup, K!):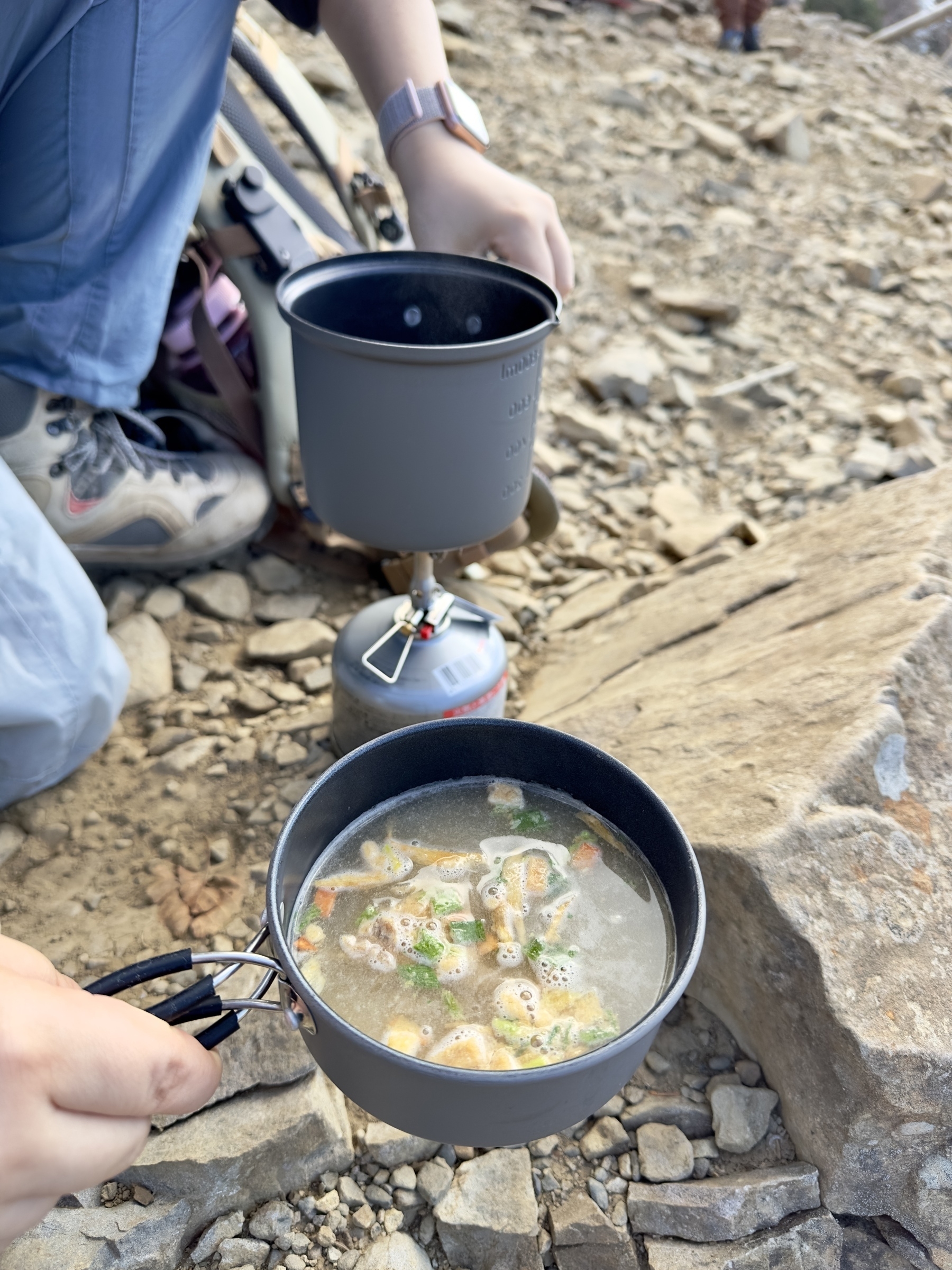 Rick at the summit of Daibosatsurei, before the hail started: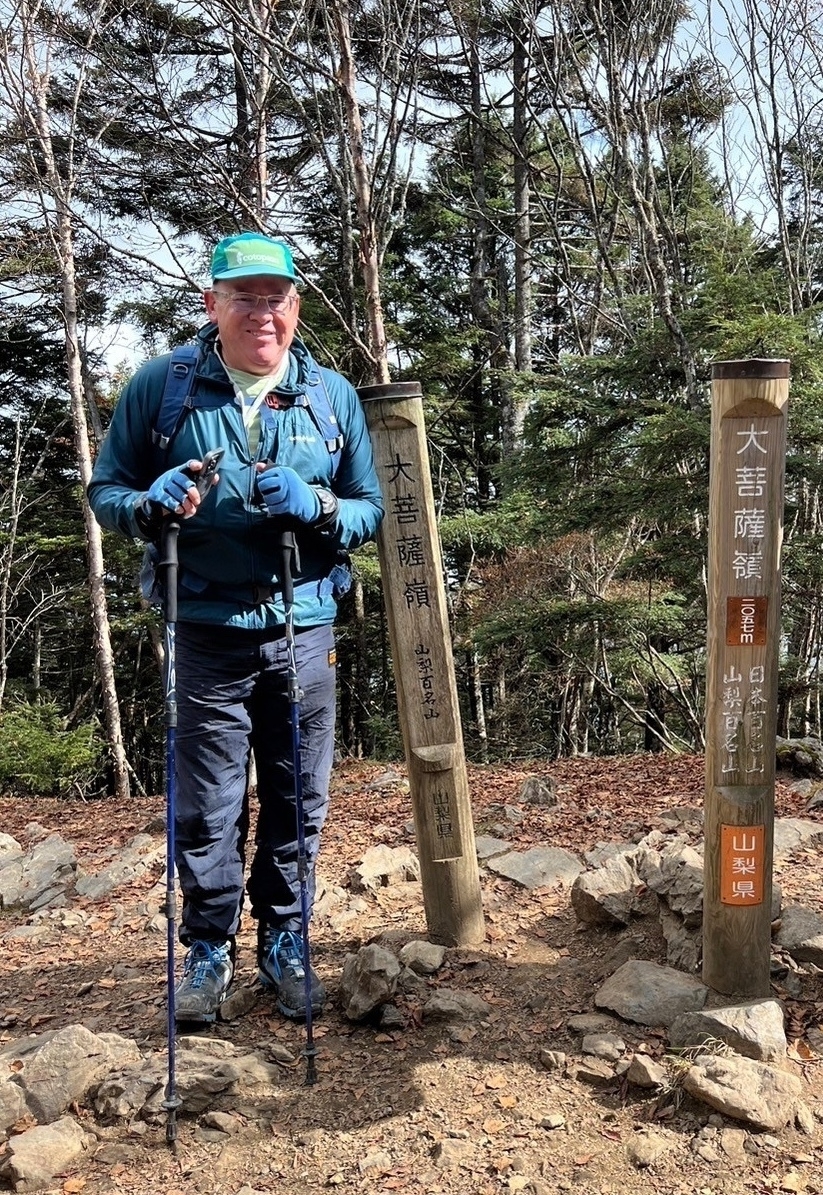 View of Lake Daibosatsu, where we parked: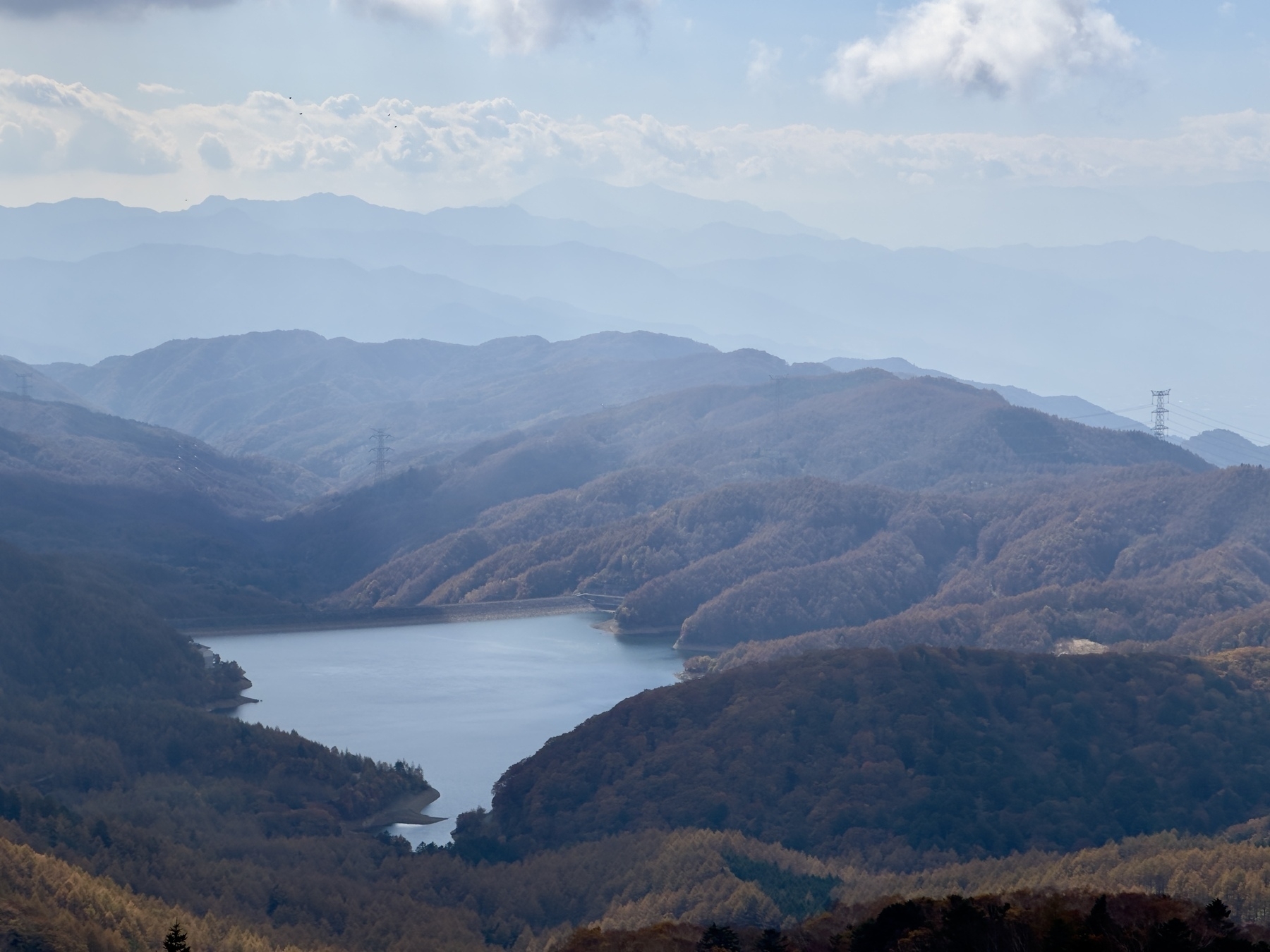 Broke out the rain shell and pack cover when it started to hail: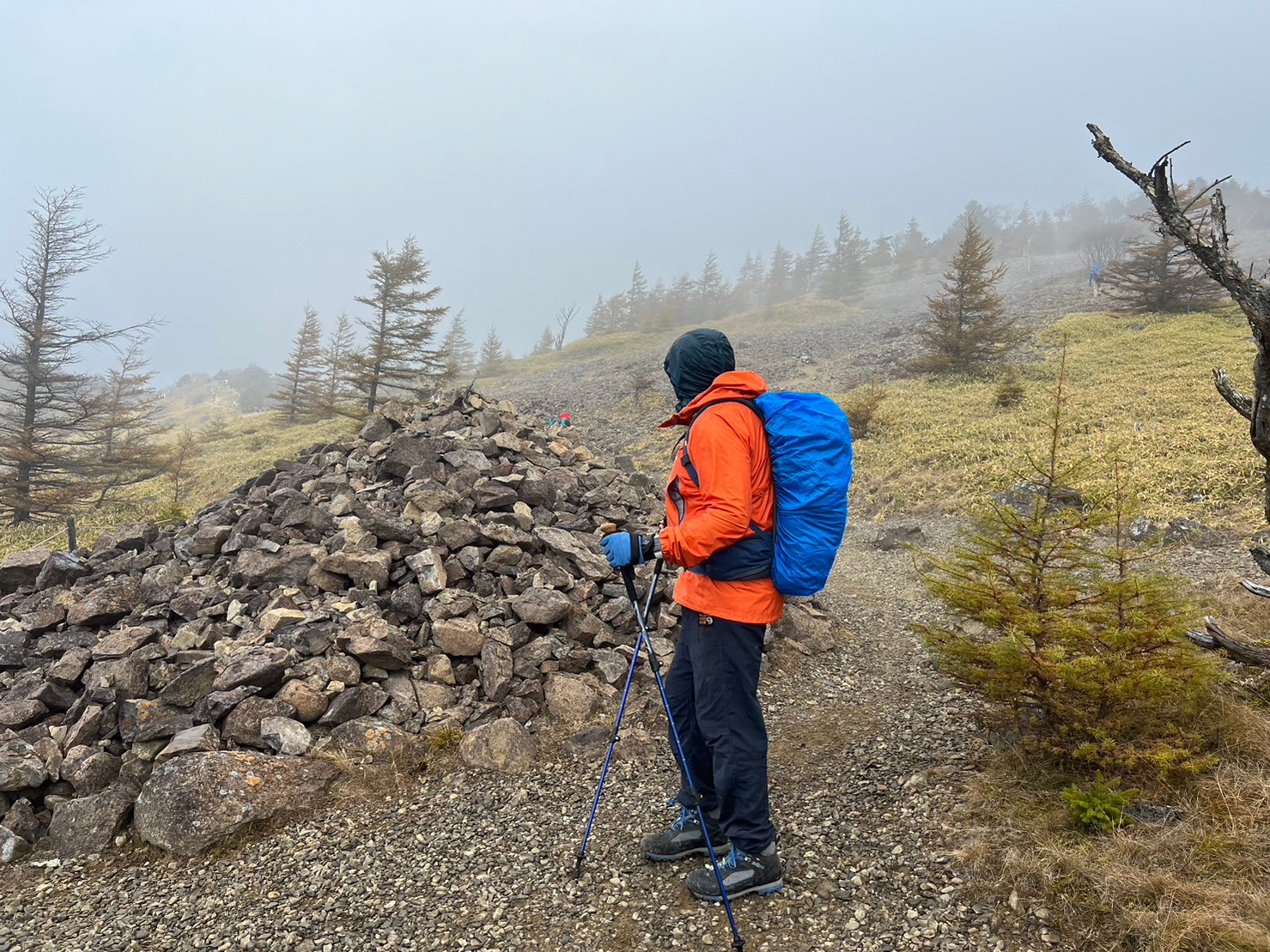 Kaizan-sou Lodge 介山荘 at Daibosatsu Pass, before the final descent: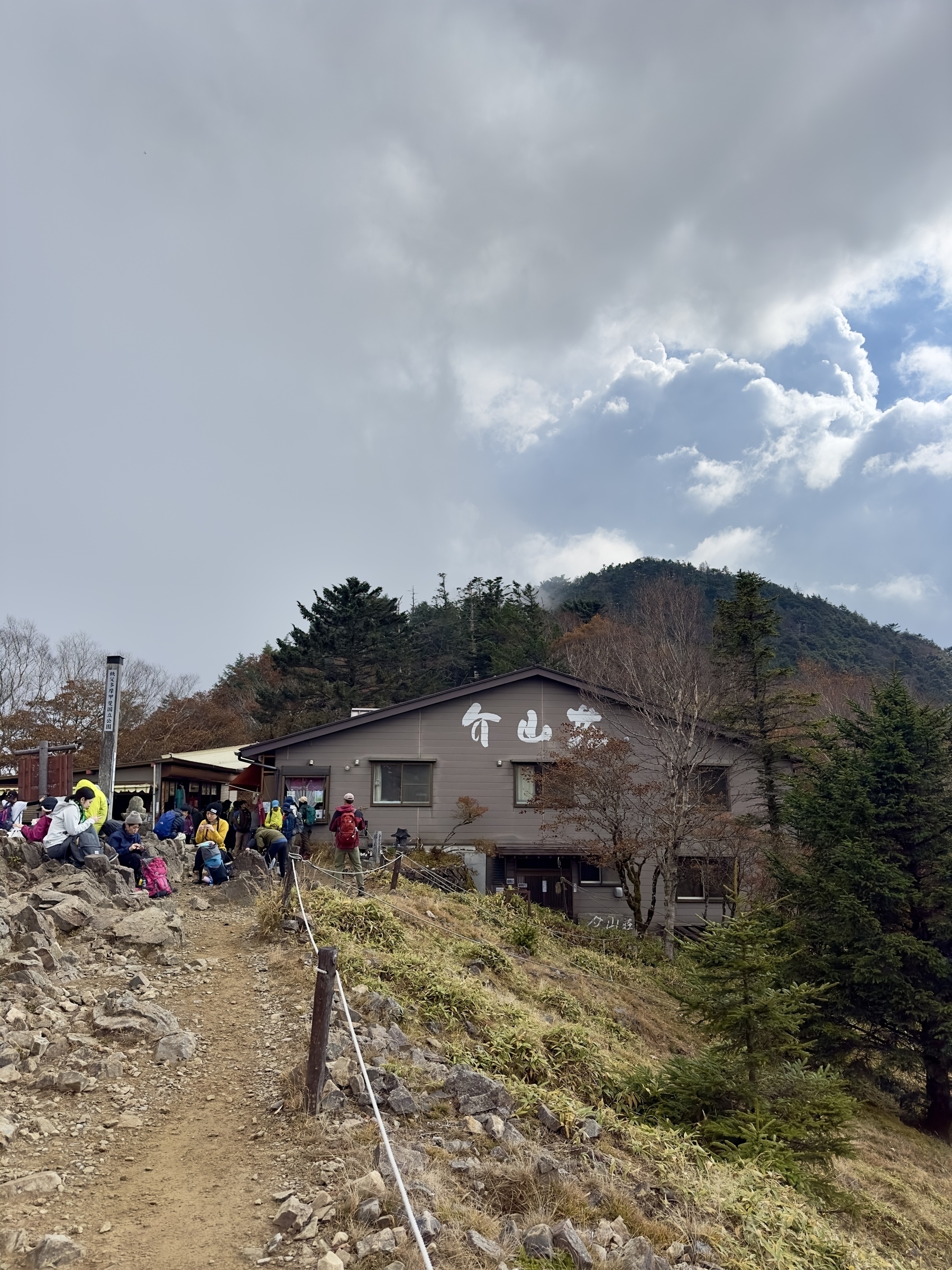 Near the end of the trail back near Fukuchan Lodge, a lovely stream with fallen leaves scattered on it: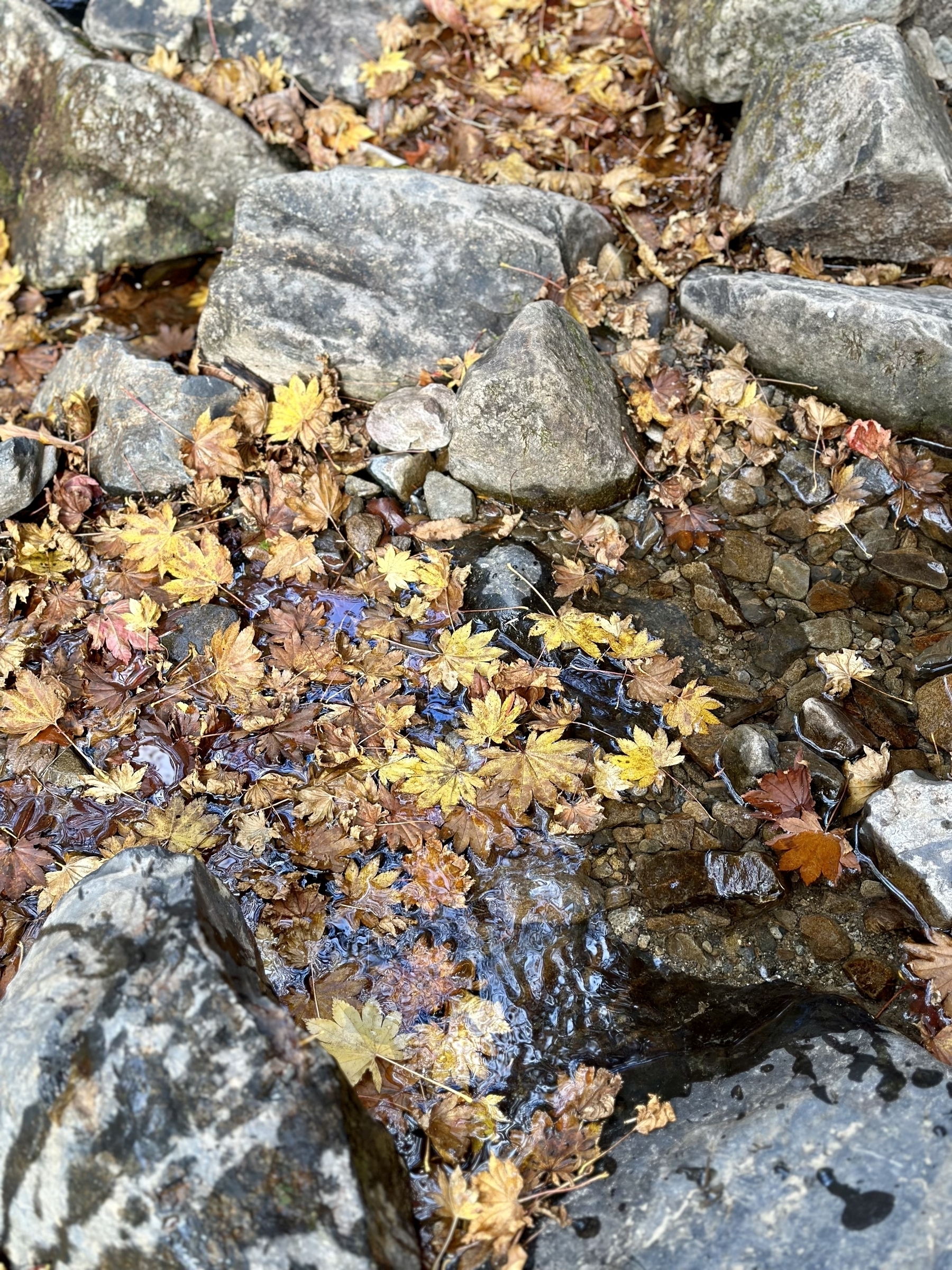 100 Famous Mountains badge for the collection: