On Sunday 27 August 2023, I challenged myself to an approx 5:45hr 6.8km solo hike in the Tanzawa range on a hot and humid day (it suddenly rained at the end), ascending about 905m up Mt. Oyama starting in the shopping district around 7am, climbing up via the "Onna-zaka" (women's slope) route to the summit, then descending about 630m down via Miharashidai to the "Shimosha" shrine area, and finally down by cable car.
Mt. Oyama is considered holy and has significant and interesting history. It's also known as "Afuri Yama", where "Afuri" refers to the rainy conditions, and "Kunimi-yama" the Guardian of the Land. The main shrine at the top is called "Oyama Afuri Jinja Honsha" (大山阿夫利神社 本社), and the one at the base near the top cable car station is "Oyama Afuri Jinja Shimosha" (大山阿夫利神社 下社), the "lower shrine". There is also "Oyama Dera" a Buddhist Temple at the first stop on the cable car, half way up to the lower shrine.
It may be somewhat crowded and fairly "commercialized" but Oyama's a challenging enough intermediate hike nevertheless. If you're new to mountain trekking, try a smaller peak first, such as Takao or Hakone's Kintoki, before attempting 1,252m Oyama. Indeed, and true to its "Afuri Yama" name, this hike was sunny until it suddenly started raining after I got down, but you should be prepared for weather, even in summer. Oyama is located in the Tanzawa-Oyama Quasi National Park in northwest Kanagawa prefecture, with over 38,000 hectares of forest with various mountain hikes, dams, rivers, waterfalls and so on, so if you want more of a challenge, you can try hikes such as To-no-dake and Mt. Tanzawa.
To be more specific, it's partially about the meters of elevation difference that make a hike easier or harder. Hikes in the Kamakura Alps are over rolling hills, 100 or 200m in height, so you get maybe +/-200 or 300m or so over the course of the hike. When you start actual "Tozan" (mountain climbing, where the main point is ascending a single or multiple peaks), like at Takao in Tokyo, Kintoki in Hakone, or something like Kurobi in Gunma, you are doing +/-500 or 600m. Then you start doing hikes where you've chosen a trail that requires +/-800 to 1000. Tanzawa's Oyama is one such, as is Hakone's Sengen or Myojingatake. More difficult are peaks like To-no-dake and Mt. Tanzawa, which are near Oyama but are a 9-10 hour hike over 19km, with +/- 1600m. That's significantly more difficult. You can have a look at my translation of Japan's mountain grading system, to see how hikes are graded in Japan and what makes a hike challenging or risky.
So how was the trail? You start the climb by going up many, many stairs through a shopping district (where they sell famous Japanese top souvenirs) at the base of the mountain, stepping and stepping up to the cable car station, which wasn't operating at 7am anyway. Once you get past the lower cable car station, you have a choice to make, between the feminine and masculine.
Our daughter recommended I take the "Onna-zaka" (女坂), or "women's slope", up to the lower shrine, because she said "Otoko-zaka" (男坂), or "man's slope" is just too precarious with uneven and crumbling steps. It turns out the "Onna-zaka" is more interesting anyway, as you can visit Oyama temple which is not accessible from the "Otoko-zaka", and, see the "nana fushigi" or "seven curiosities" like the childrearing o-Jizo, the relief statue that was carved by a monk using only his fingernails, or the silent bridge (bad luck to talk as you pass over), as well as see some "power spots" like the "married couple cedars" or Roben falls.
It wasn't all culture. There were 山蛭 "yamahiru" mountain leeches, too. Well, I didn't actually see any leeches, but there was a sign warning about them, and a tub of salt to use, to coat your socks and shoes with, so coat I did! A mountain-goer friend told me the Oyama area is one of the areas in Tanzawa with money, so they indeed take some measures against mountain leeches, but that other more backcountry destinations in Tanzawa don't. He recalled he was shocked to find his shins all bloody one hike, from getting some of them on his shins. There's even a nearby mountain called "Mt. Leech", which, sounds like it's not for the faint-hearted.
I took a break at the beautiful lower shrine, after having ascended the women's slope. I said a prayer at the shrine, and looked around a little bit. One of many things that stood out was a statue of two school children, looking determined and pointing into what I assume is a bright future, which has an inscription 輝け杉の子 "kagayake, Sugi no Ko" or, "Shine! Children of the Cedars!" The sign said it commemorates the 40th anniversary of when about 3000 children evacuated to Oyama during WWII, were returned to their families. Poignant to think that some of these kids had nothing to return to.
From the "Shimosha" lower shrine, you start up what is now fewer stairs, and more trail, as you ascend to the summit. Recently a friend pointed out that the Tanazawa mountains were formed not by volcanic activity, but by tectonic plates pushing against each other, so the characteristic of the trail is a bit different. It's not volcanic rock like Mt. Kintoki in Hakone, but more granite-like rocks between the roots and dirt. A little way after the lower shrine, there is a famous geological structure called the Botan Iwa 牡丹岩 or "peony rocks", which is a big boulder structure you walk over, with round knobby protrusions between the size of a baseball and a softball, underfoot.
Further along, there were a couple of beautiful views already, where I took a break thinking I would have a protein bar or energy gel. I felt fear set in as I had made a dumb and potentially dangerous mistake. You can access Mt. Oyama via bus from Isehara station on the Odakyu, but I parked in the 2nd lot, just next to the shopping district. And that's where I left the sports gels and protein bars and rice ball I'd bought for this hike. Luckily, our daughter had given me some 塩分チャージ "enbun charge" salt candy "just in case you get overheated" which is a sugar tablet packed with salt and minerals, so I had two of those until I got to the summit. I was humbled and grateful that Oyama is a bit commercialized with a "Chaya" tea shop at the top. There I bought curry rice and a sports drink, thanking my lucky stars as I ate, that I would not be in danger of bonking on the way down. I did have enough water and sports drink packed with me, but I hope I never forget my food again!
The route down was via "Miharashidai" which has a great view of Oyama itself and is a nice area to have a picnic, with a lot of picnic benches. There's many signs on the way down, warning of either risk of slip/fall, or warning of falling rocks. The trail maintainers have affixed large steel cable nets to the mountain, especially where you're navigating switchback as you descend. You can see that boulders have fallen into the nets, which was a little disconcerting. The app I use, Yamareco, showed a warning marker at one point (users can make a mark and explain why, which is visible on the trail in the app), saying that the trail was difficult to pass. There was a man and woman there that day, cutting trees that had fallen across the trail, using a handsaw. I got the go ahead and scrambled under on my hands and knees. Maybe that warning in the app will now disappear.
Near the end, there's a pretty waterfall called 二重滝 "nijutaki" or "double falls", near another shrine also with that name. From there, you actually ascend a little again, and you're back at the lower shrine in no time at all.
Then, it was time to bust out my towel, which I sat on at a café while having a banana smoothie and a sausage. I was tired, so I chickened out of descending the "Onna" or "Otoko" slopes again, opting instead to take the cable car down past Oyama Temple, to the base. From there, it was back to the parking lot and back home.
If you're interested, check out the route map on my Yamareco activity URL. Hope to see you on the trail some time! 🌋
---
Here's my assessment of this hike using the Japan Mountain Hike Grading scales:
Japan Hike Grading Assessment

| Ranking Criteria | Details | Level |
| --- | --- | --- |
| Stamina | (5.75×1.8) + (6.8×0.3) + (0.9×10) + (0.63×0.6) = 22 | 3 |
| Technical Difficulty | Some plunge/slip risk areas (well marked) | B |
---
See the photo galleryand Yamareco activity record.
Route map, see also on Google Maps (other hiking maps available too):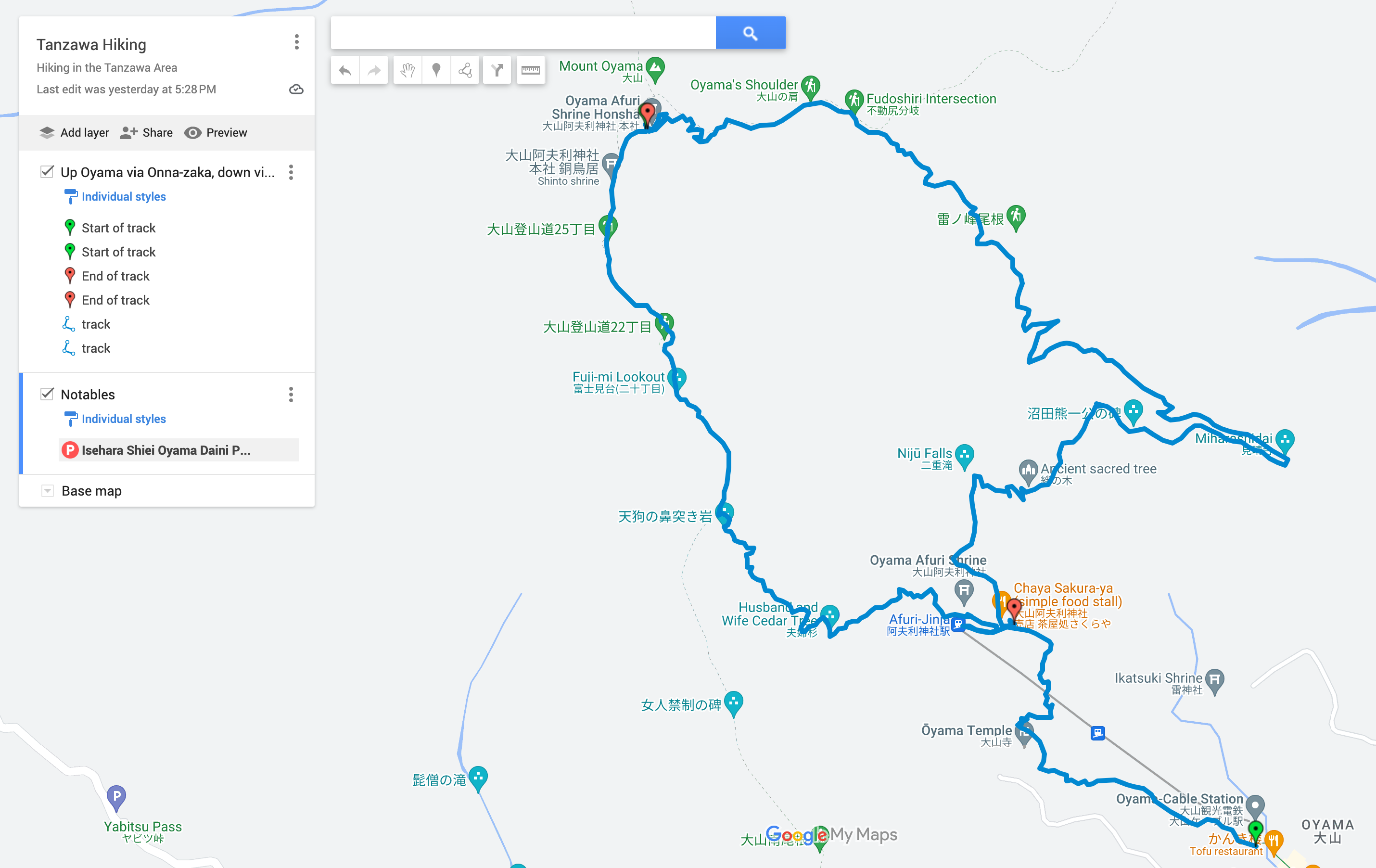 There was a festival on the day I hiked, and this portable shrine was on display: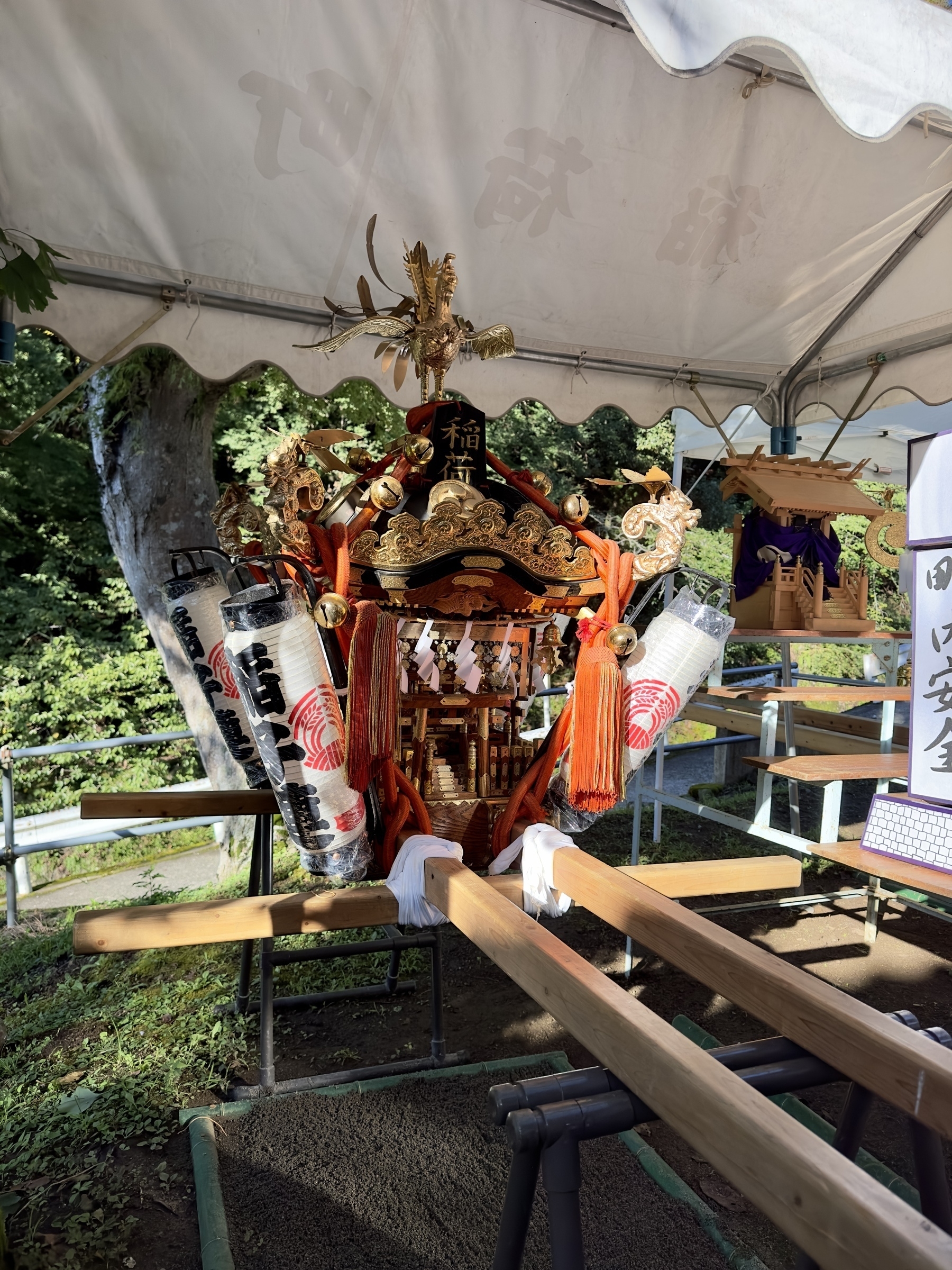 Beware of leeches, and do rub this salt on your socks: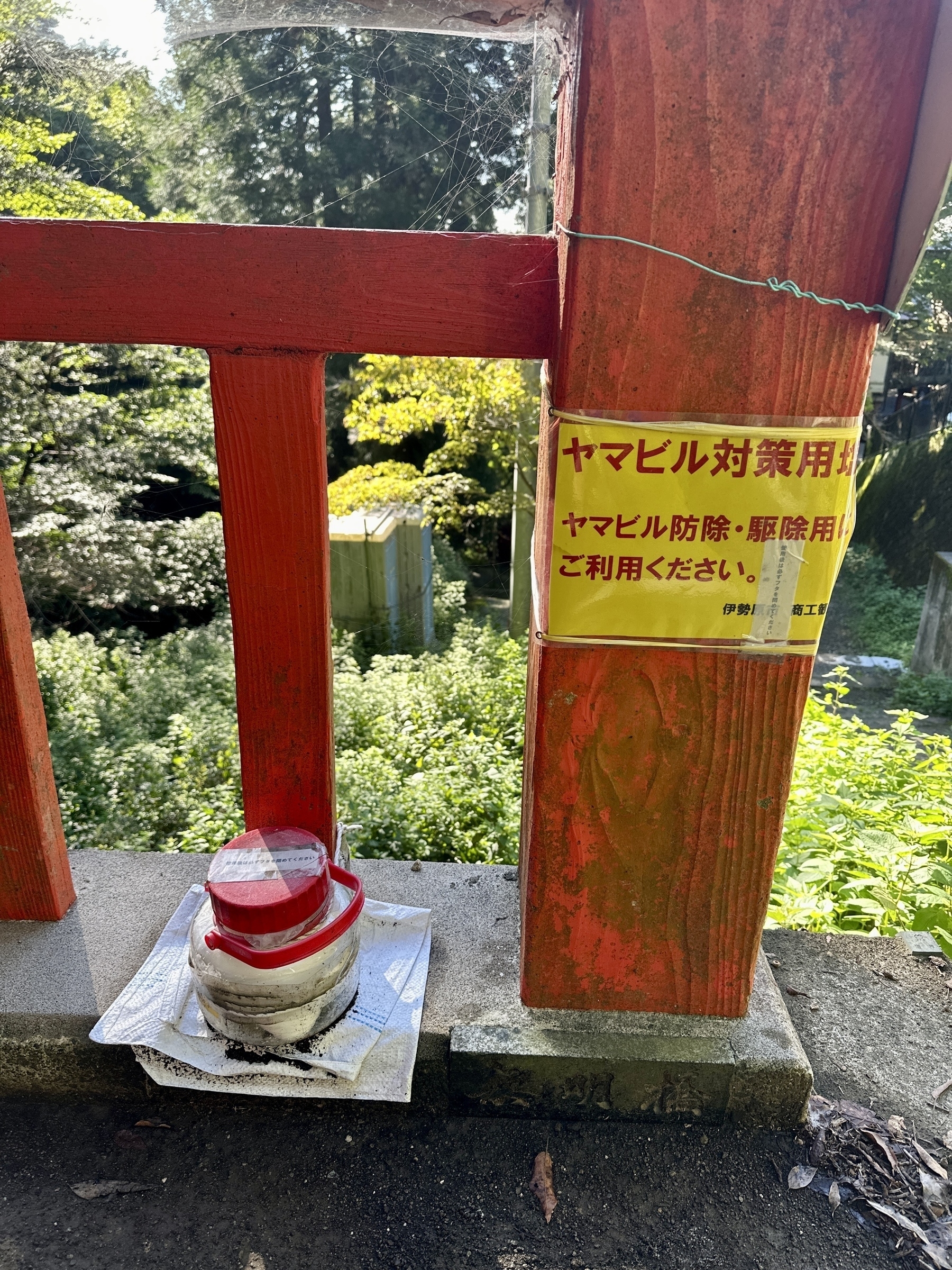 Statue commemorating "children of the cedars" WWII evacuees: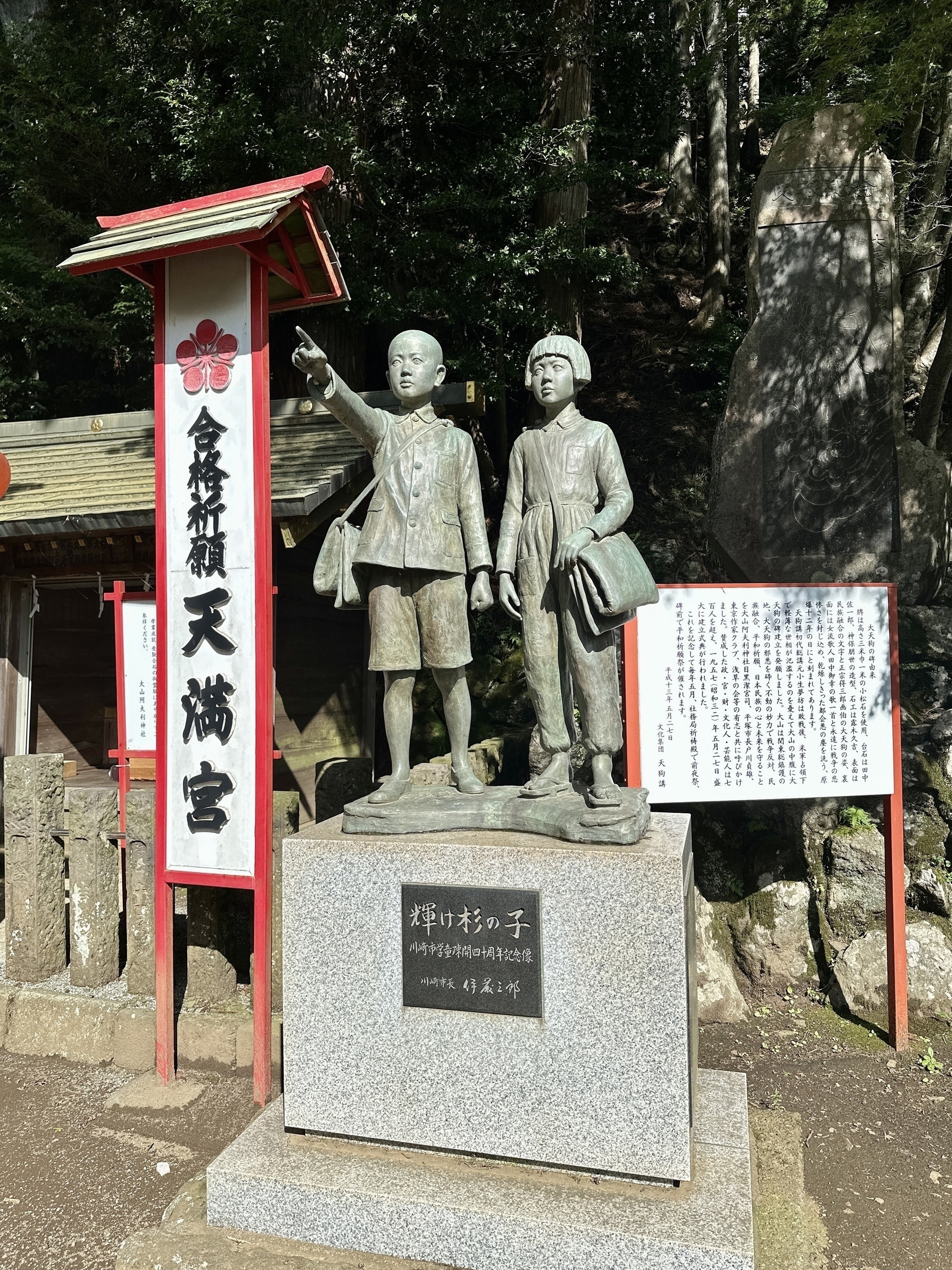 Botan Iwa 牡丹岩 or "peony rocks" so named because of their round appearance like a peony blossom, per this sign: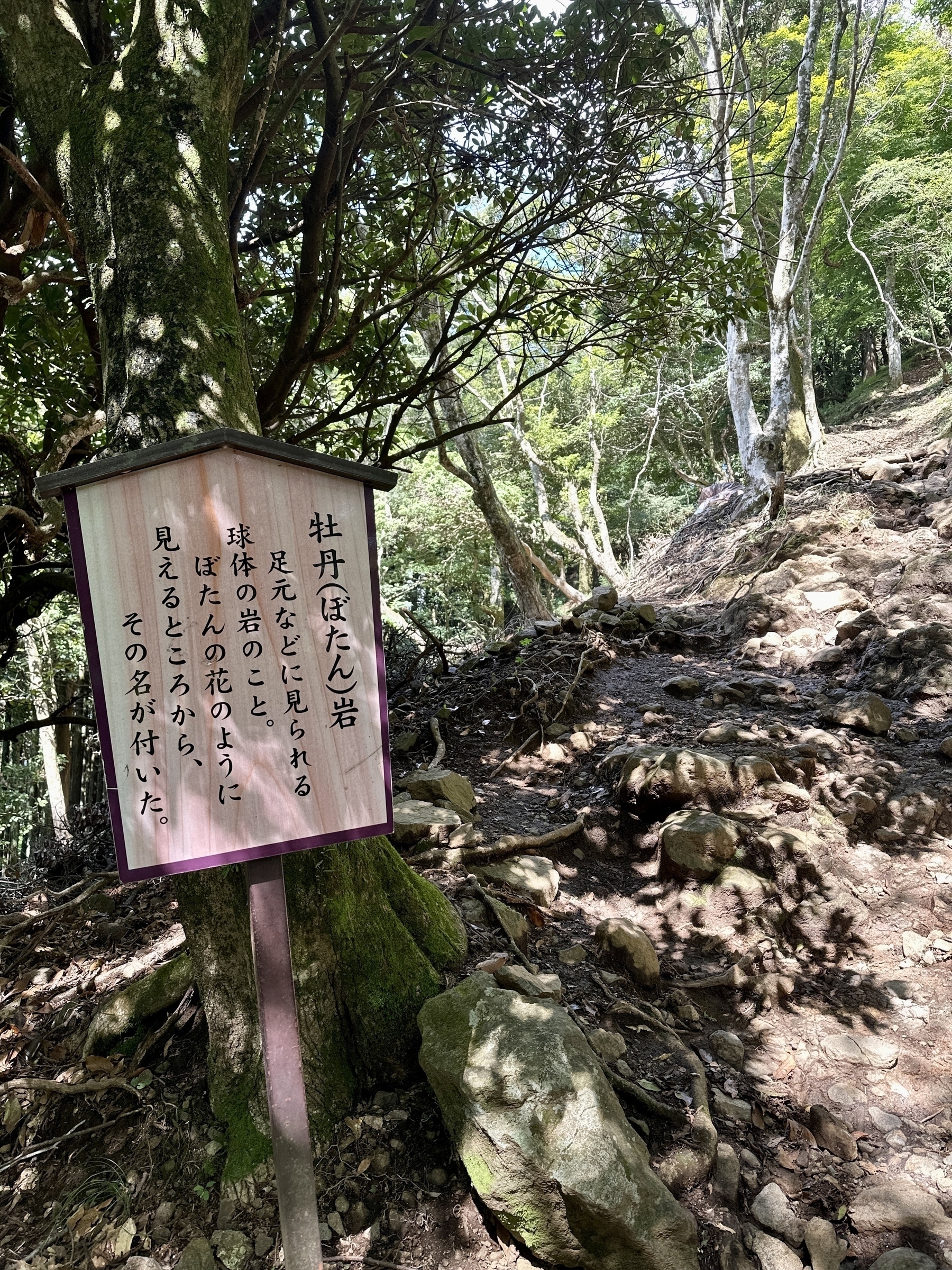 Enjoyed curry rice at the top: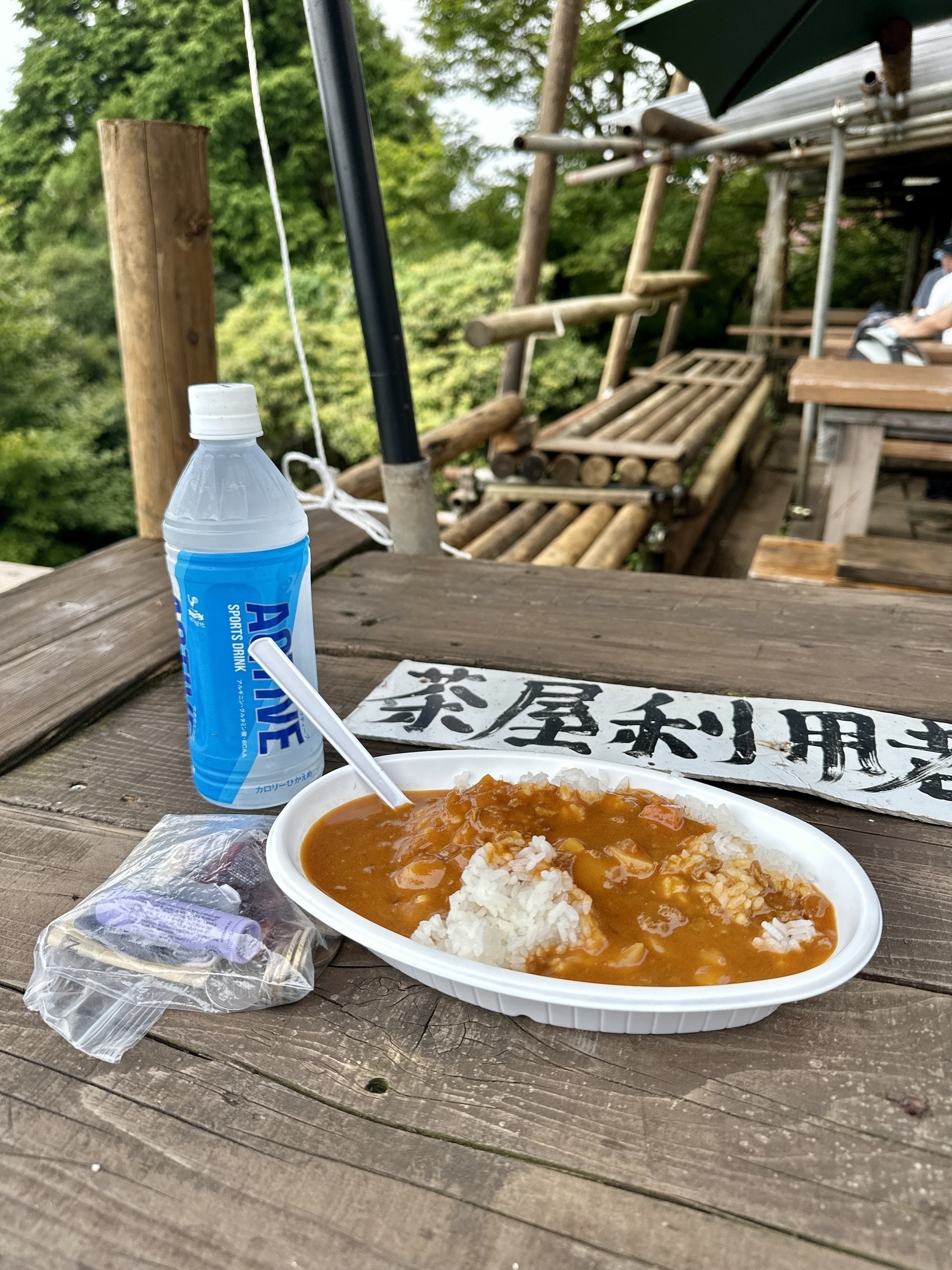 Sign warning of slip danger, on the way to Miharashidai: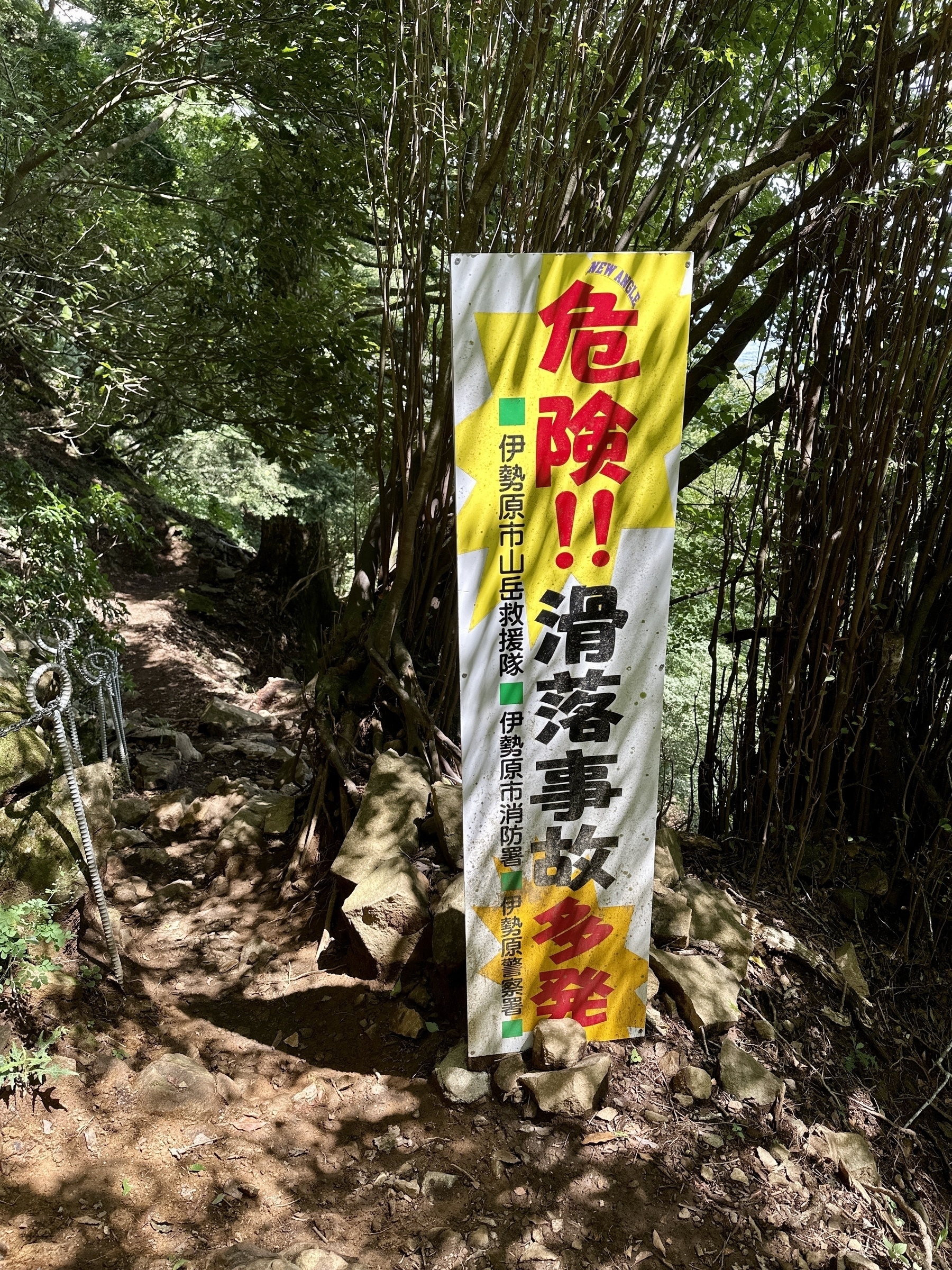 Mt. Oyama as seen from Miharashidai, about halfway down: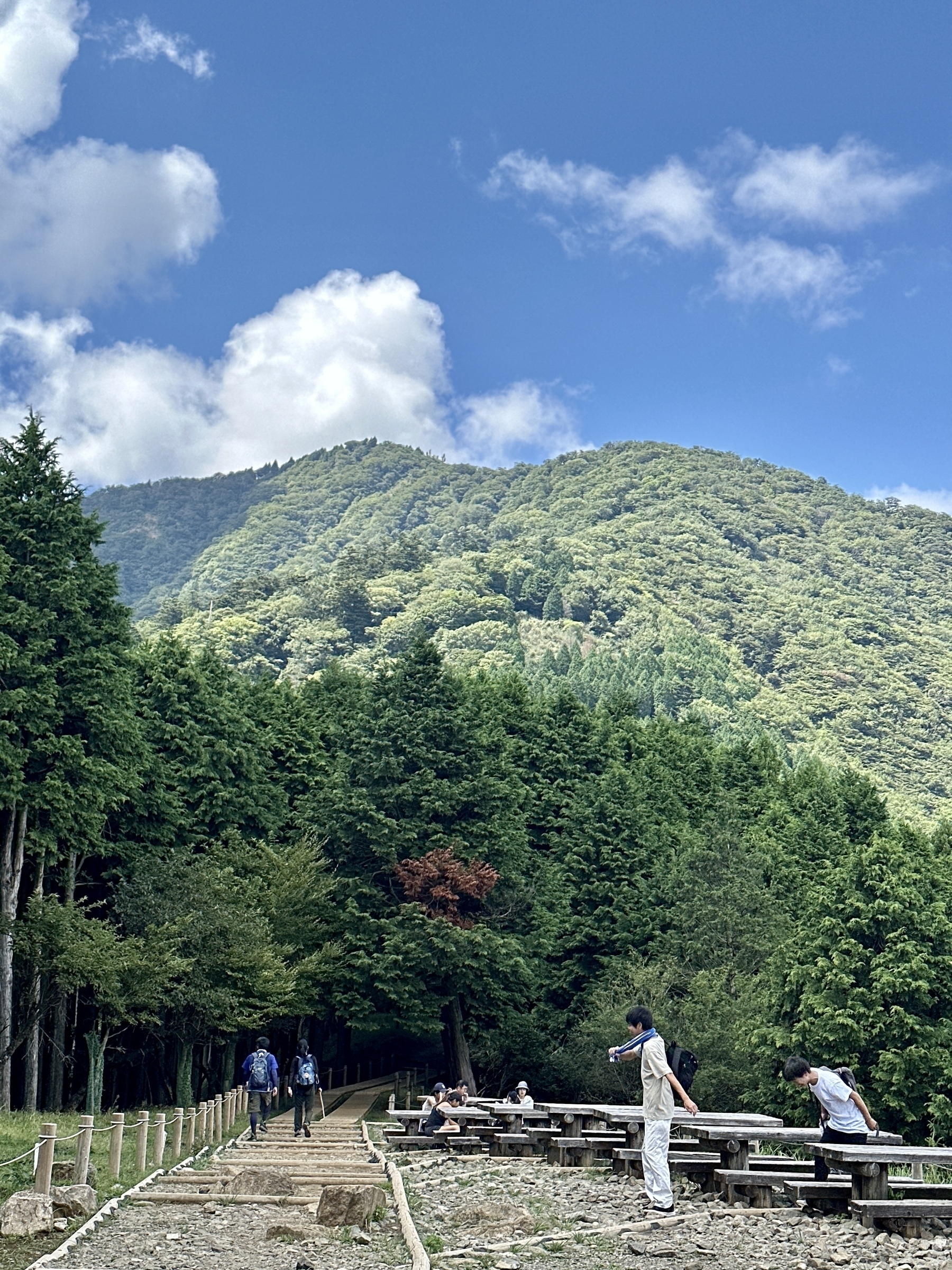 Porters use these frames to carry shop supplies up the mountain; we reap the benefits: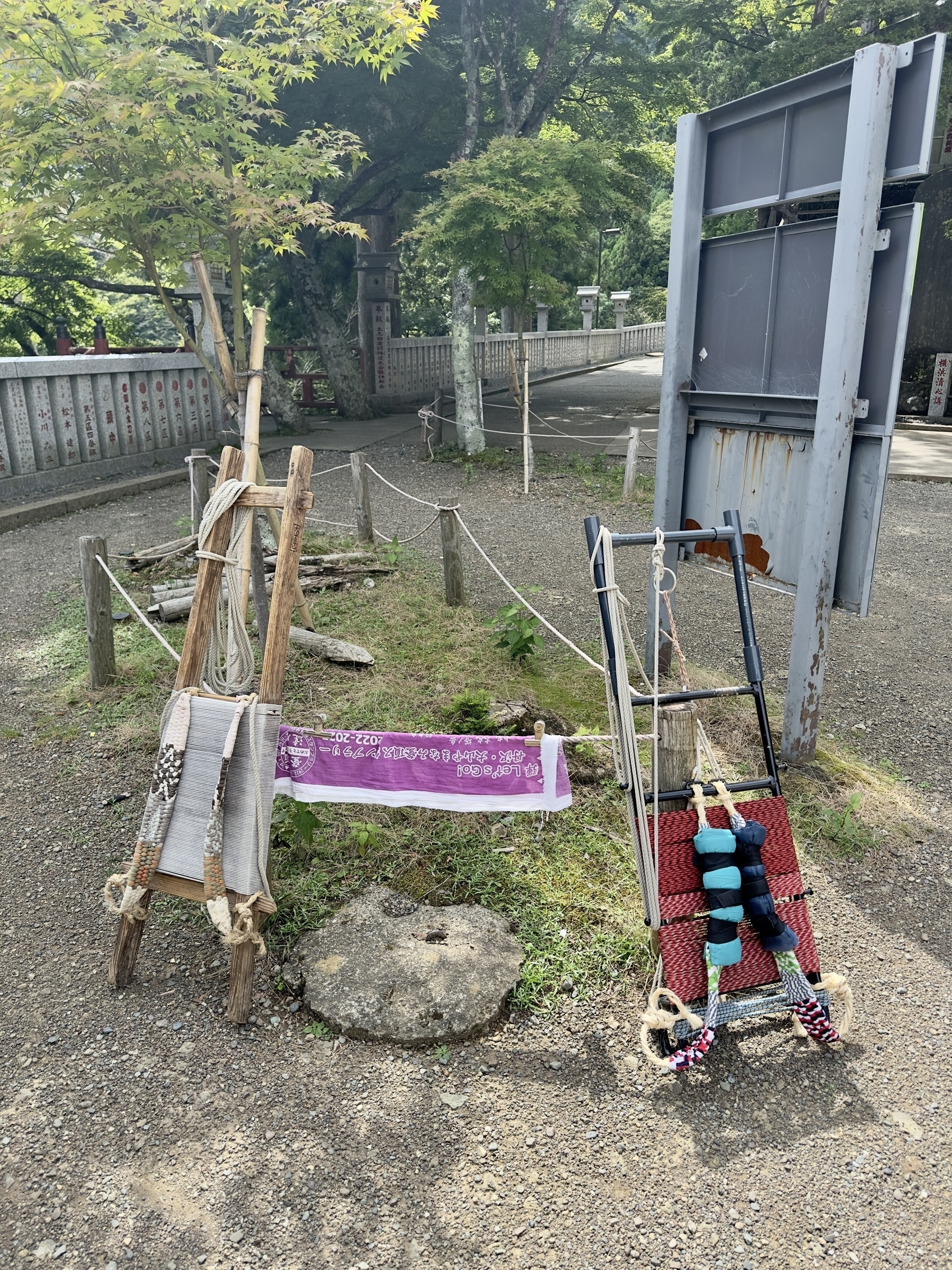 View from the cable car, to cap off a great hike!: