∞
AshidaVox ST-31-02 Headphones - new wired model for my daily driver
Perhaps ten years ago I bought BeyerDynamic T90 headphones, which I love and which have served me well every single day, but they are just falling apart from wear1, so I was looking for an appropriate replacement. I found new 'phones from AshidaVox2 with great cost performance that I'll share in this review from my perspective as an audio layperson. 🎧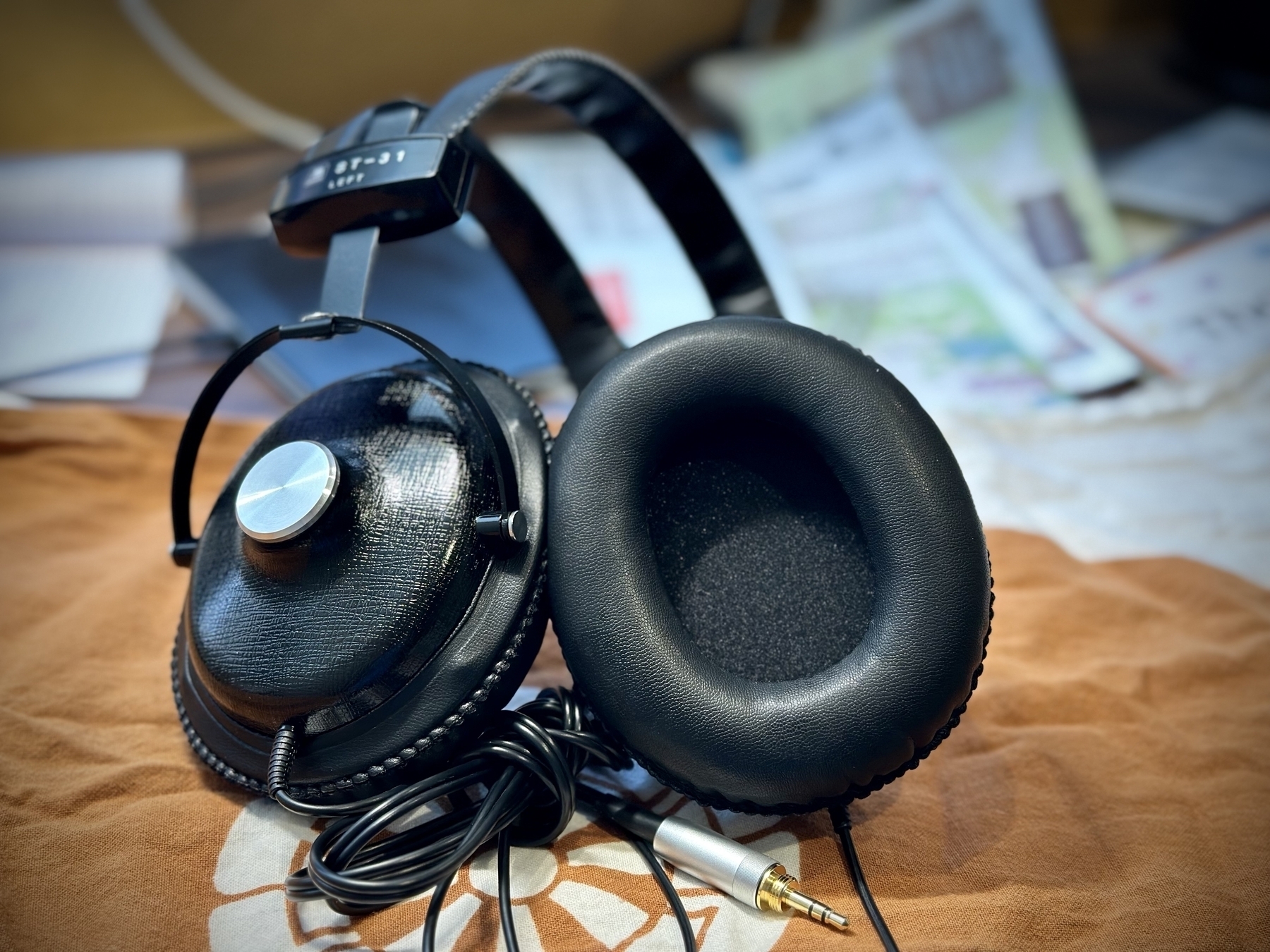 Background and Decision-making
I'm attracted to wireless headphones and IEMs that connect via Bluetooth, but I have not had good luck with reliability so far, with AirPods or wireless IEM's of any flavor, so I thought I would look for something good which is also a wired model, for listening to music, podcasts and watching Netflix etc around the home. Maybe I'm just old, but it's less annoying to not have to recharge anyway.
I prefer to support the local economy if I can, because I live and work in Japan, so for this purchase I decided to try to find made-in-Japan headphones, and go with a wired model. Researching here and there e.g. on the e-earphone site, I learned about Tago Studio and AshidaVox; two domestic makers of headphones. Tago is recently well regarded overseas, while AshidaVox is well known for its famous ST-31 model especially3.
I'm no expert, but the models from Tago Studio, aside from being more expensive than AshidaVox, are apparently tuned for work in a music studio by pros who work in a music studio. I gather that you want separate headphones for that kind of work, as opposed to simply listening to music for pleasure. The higher end Tago's were raved about on English-speaking sites, for example, and they cost about JPY 65,000. This isn't that expensive in headphone land, where some really high end headphones sell for 300 to 600K, but it's 3x the price of the AshidaVox.
On AshidaVox
Paraphrasing their website, Ashida Onkyo ("Sound") was founded in 1924 (Taisho 13) from the original Ashida Company, the general agent of Magnavox for the Far East region, and switched from importing speakers from the US to producing them domestically, when US-Japan relations deteriorated in 1942. The brand "AshidaVox" has been in use from 1925 until today, representing quality audio speakers and headphones, for almost 100 years!
Deciding on the AshidaVox ST-31-02
The AshidaVox ST-31-02 model that I ended up getting, was released on 1st Oct 2023, and cost about JPY 22,000 before tax (with ST-31-02 replacement ear pads available for JPY 2,090). They made only 200 units to start. I read some reports before my purchase that they were great cost-performance, tuned to sound good with various types of music, and despite being "closed back" type, they have a good "sound stage", so, that sounded good enough for me given the low price.
E-earphone's blog states (as does AshidaVox's product release blurb) that the ST-31-02 is the second generation of the famous ST-31 used in many recording studios in the '80s and '90s. Paraphrasing, they explain:
The speaker cone paper that was the heart of the sound was no longer made, so the original model eventually went out of production. However due to a passionate user base, AshidaVox re-released this updated version for general music appreciation purposes. They developed a special Φ 50 mm speaker driver, and while keeping the original flavor of the ST-31, they made the bass deeper and the highs more comfortable, while controlling some unpleasant resonances, giving the product a clear sound signature without muddiness. They are made one by one in Japan with a craftsman's dexterity and sincerity, without affect, and to a consistently high level.
The BeyerDynamic T90 headphones I have been using are "open back" which means they leak sound and might not be appropriate for night use at home or any public use, but, a lot of people like the "open" design, because it sounds bigger or more airy. The AshidaVox ST-31-02 model is closed, so there is a lot less sound leakage which is probably better for my living situation. If I can get my T90's repaired I'll compare.
One criticism I read about the ST-31-02 is that the cord is short, at 1.5m, but, for my usage this is just right. The shortness is a plus for me. The T90 has a 3m cord and it gets tangled up into a weighty mass of excess cable. If I add a USB DAC in-line for a little boost, that adds just a bit of length as well.
In addition, the ST-31-02's low impedance of 26Ω means I can drive them directly from an iPhone or iPad. In comparison, the T90s have an impedance of 250Ω, meaning you really need to put them through an amp so they will sound good.
All that said, I decided on the ST-31-02's because they fit my usage and come from a reputable maker, and in my opinion, they sound great!
Usage
The purpose of these headphones is to use them around the house for listening to relaxing music during work, or listening to podcasts or lectures, and watching some streaming service videos before bed. I'm certainly not so knowledgeable about audio, and just want headphones to sound "good enough", so I experimented with some settings for my usage pattern.
If you are interested in testing for yourself, you can copy the settings I made in iPhone and iPad iOS 17.1:
Settings, Music, Audio section

Dolby Atmos - always on4
Lossless - on for Wi-Fi streaming
EQ - various, change to suit the music
Besides the above settings, I tried the ST-31-02's with and without an amp and they sounded good either way.5 Changing the above mentioned EQ setting really helps as well.
The look and feel is quality, but has a sort of retro feel. If "modern" is slick CNC'ed smoothness, then these look more like a craftsman made them, and maybe they are just a touch old fashioned. The cups look like painted fiberglass, and you get the feeling they would be right at home in a factory or a school. Personally I'm kind of "Showa" anyway, and I really like it. They feel solid in the hands and snug when worn.
Specifications
Here's the maker specs, translation mistakes mine:
Specification for ST-31-02 from Maker Instruction Sheet

| Aspect | Specification |
| --- | --- |
| Type | Closed back dynamic |
| Driver Diameter | Φ 50 mm |
| Impedance | 26Ω (at 1 kHz/mW) |
| Sensitivity | 104 dB/mW |
| Max Input Power | 1000 mW (IEC) |
| Frequency Response | 7-70000 Hz |
| Cord Length | ~1.5 m |
| Connector and Cable | Φ 3.5 mm gold plated stereo plug, fixed non-swap cable |
| Weight | ~250 g including cord |
| Included | Instruction sheet, Φ6.3mm Adapter Plug (screw on) |
By comparison the T90 headphones have an impedance of 250Ω meaning they work better with an amp, a sensitivity of 102 dB, and a frequency response of 5-40,000 Hz.
So far I really like these AshidaVox headphones and am satisfied about the purchase. I'll update after I use them for a month or two.
Happy listening! 🎧
Updates
20231103 - Corrected that AshidaVox is not known overseas; they are. Edited for better flow and added some sections to break up the wall of text. Tried the headphones for a couple hours last night listening to various genres and EQ settings, and I still like them. They were not tiring to use and the "snug" fit I mentioned wasn't a problem for me.
20231104 - I had AshidaVox incorrectly written as "AudioVox" in a few places (d'oh!), fixed. Added other names for the AshidaVox company.
20231107 - Added a little AshidaVox history - they're almost 100 years old!