∞
Old Tokaido Hike in Hakone
On Monday 18 Sept 2023, on Respect-for-the-Aged day, I did a 5hr solo point-to-point hike in Hakone, up the "old Tokaido" and "old Hakone Town" roads, ascending 752m and descending 119m over 10.7km. This was not up a single mountain per se, but was plenty tiring going up a very long slope, as the humidity is still hanging around even in September. The hike started in Hakone Yumoto, then followed the road then trails all the way up to Lake Ashi. From there, I got the bus back toward Yumoto, stopping off part way along, to scrub off the trail dirt and have a dip in the onsen.
I got to JR Odawara a bit before 6am and was hiking at Hakone Yumoto by 6:40am, and the first 3 kilometers or so are over road, up route 732. You see Yumoto receding on the right as you ascend. Getting to rt 732 proper required some peering at the map, but once you're on it, you just have to keep an eye out for some landmarks.
After many bus stops, as you're nearing the trailhead, you pass a rather colorful temple that reminds one of those in Nikko, the Hakone Dai-tengu, then a hotel on the right, followed by the Sukumogawa IC highway intersection. Another couple hundred meters along, and you'll see Sagumodera Temple on the left, which has a small waterfall and a water spout for purification next to the road. The Sukumogawa Nature Trail trail head is soon after, also on the left.
At the trail head, you'll see a sign for the "Hakone Geo-park" explaining a bit about the area, and from there, you ascend a bit then basically descend to the river, where you can cross over a narrow wooden footbridge near the Tesco power station. There is also a suspension bridge about 100m upstream, if you're not comfortable with the "maruta-bashi". It was a bit wobbly and unstable, to be honest.
Once you're over the bridge, you go up to rt 732 again near a shrine, then you're going to proceed on the Old Tokaido or Old Hakone Town cobblestone roads. The first landmark is the rock that Goro Soga is said to have split with his sword to test its sharpness when seeking revenge, according to the sign. Some sections of the cobble paved roads are actually from the Edo period road started in c. 1603, so walking over those marked sections is a moving experience. Other cobblestone sections were destroyed during the massive 'quakes in 1923 and 1930, and were repaired after that, using the same road-making techniques.
There are many signs, some with English, that explain how the roads were built. I think that Roman architects would be suitably impressed. I can't even imagine the amount of labor that building something like these roads would require, back when there was no heavy equipment to rely on. I mean, here I am struggling to just walk on the trail, much less haul large rocks all day. By the way, the cobbles were slippery in parts, so some care was needed. It would be more so, after a rain.
Eventually, as you proceed on and off the old Tokaido road and sometimes rt 732, you'll get to Hatajuku, one of the old rest stops and so-called ichirizuka distance markers on the old Tokaido; the 23rd "ri" from Nihonbashi, to be exact.
As an aside, the distance markers on the old Tokaido were one "ri" apart, about 4km. Nihonbashi, where the old Tokaido started, would have therefore been about 92km from Hatajuku. The meter distances on the trail were marked in old style Japanese as bei 米.
Hatajuku is full of shops selling the famous Hakone Zaiku wooden yosegi marquetry, and there's a clean public toilet that you can use before continuing up the trail.
The Tokugawa Shogunate designated 53 official "Post Stations" where you had to show a travel permit to pass when using the Tokaido. Hatajuku was apparently not one of those, just a rest area, but there are the official Hakone-juku and Odawara-juku nearby. There was also the Hakone Checkpoint that was a security gate, to control who left from or travelled to Edo, and you can visit a museum regarding that in present day near Ashinoko Lake, if you enjoy that history.
From Hatajuku, it's more ascending up steps and cobblestone paths, and you'll eventually come to the famous Amazake Chaya where you can take your well-earned break. The strawberry shaved ice with real strawberry chunks was really good, as was the iced matcha, and the atmosphere of the place was just really cool. Compared to the folks who drove there, I was obviously sweating from hiking, and probably didn't smell that great. They gave me a special "safe travels" paper that they give to hikers, which I really appreciated. You can see it in the photo below.
After about 30 minutes' break in the Chaya, I completed the ascent, then descended to Ashinoko. I was looking for the Hakone Tozan bus back to Yumoto and one had just arrived, so I didn't really linger. The bus to Yumoto passes Kami-Tonosawa, where I got off so I could have a soak in the usual Hakone Yuryo, a day-spa onsen. (It's a fantastic facility, but like many others, they don't admit people with tattoos FYI) From Hakone Yuryo, I used their convenient shuttle to go to Hakone Yumoto, then took the funicular to Odawara and took the JR train back home.
So, all in all I walked about 2.7 "ri" this day, which would have meant I passed by just two of the 128 "ri" distance markers on what was a 514km cobblestone road, with its 53 official overnight stations like "Totsuka-juku" and "Hakone-juku".
Finally, check out the route map on my Yamareco activity URL, and give me a shout if you see me on the trail some time! 🌋
---
Here's my assessment of this hike using the Japan Mountain Hike Grading scales:
Japan Hike Grading Assessment

| Ranking Criteria | Details | Level |
| --- | --- | --- |
| Stamina | (5×1.8) + (10.7×0.3) + (0.75×10) + (0.11×0.6) = 20 | 2 or 3 |
| Technical Difficulty | Some plunge/slip risk areas crossing river, otherwise A | B |
---
See the photo galleryand Yamareco activity record.
Route map, see also on Google Maps: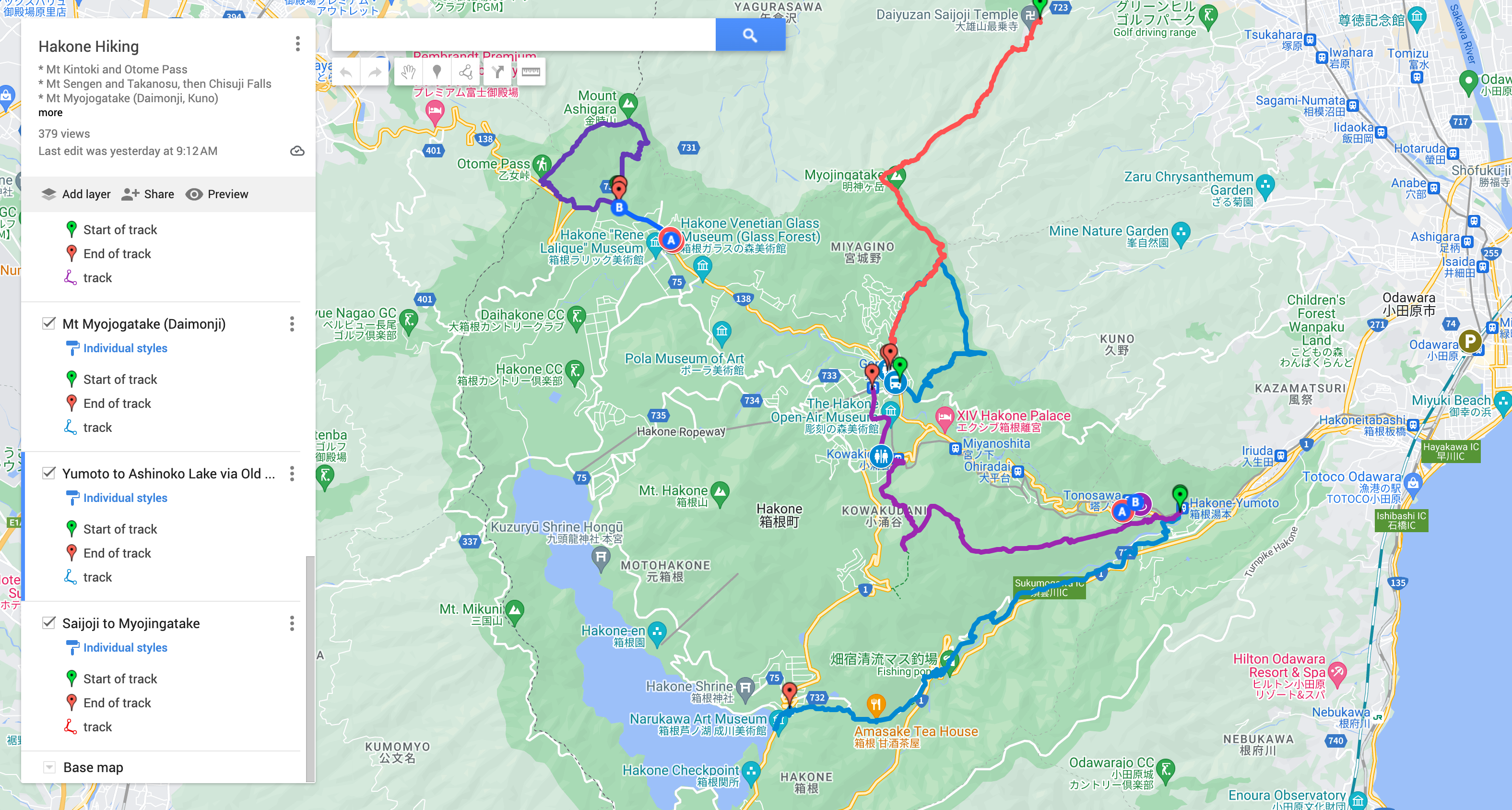 Beautiful river view at the start of the hike: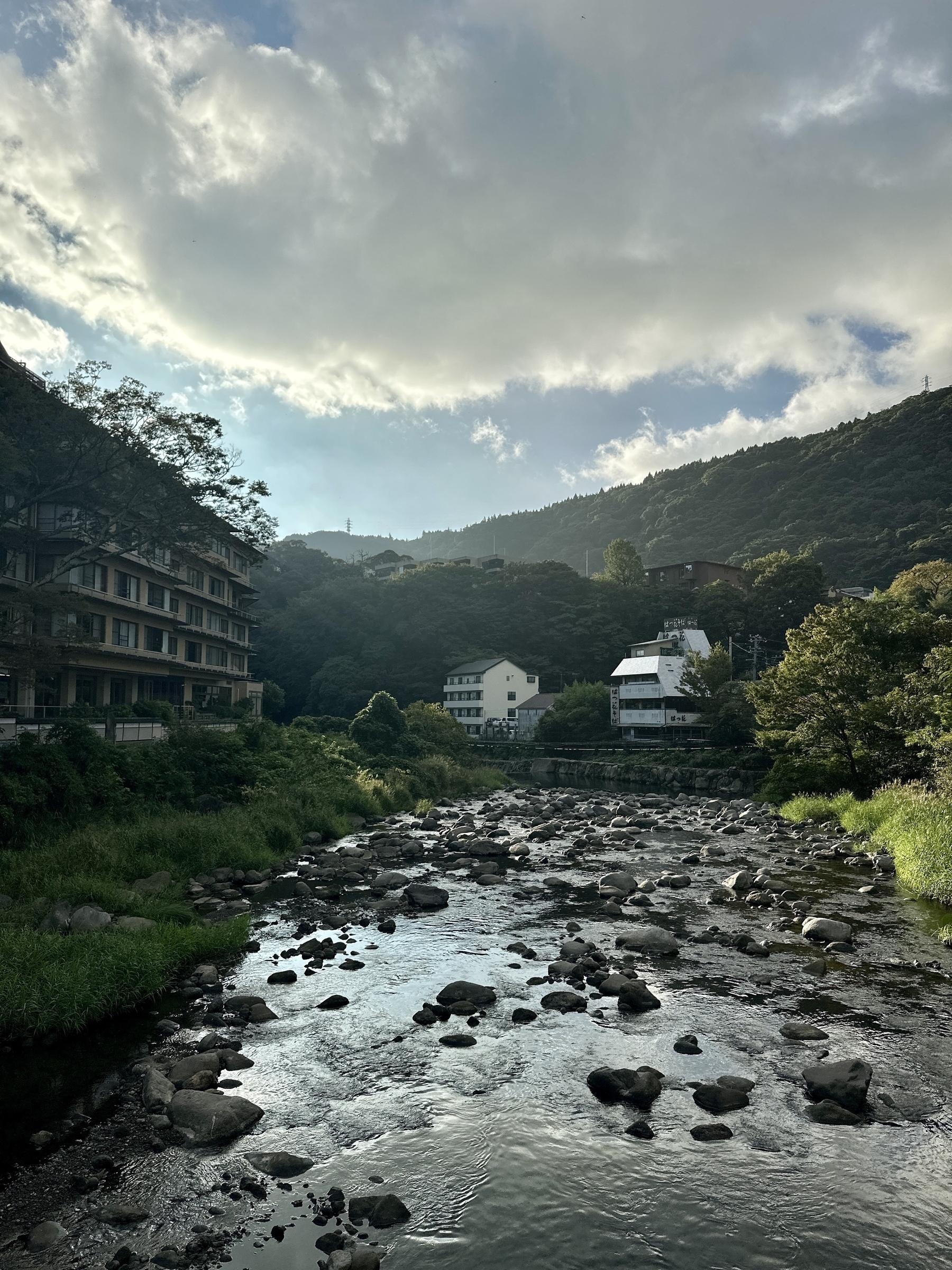 Very colorful temple as you get close to the trail head: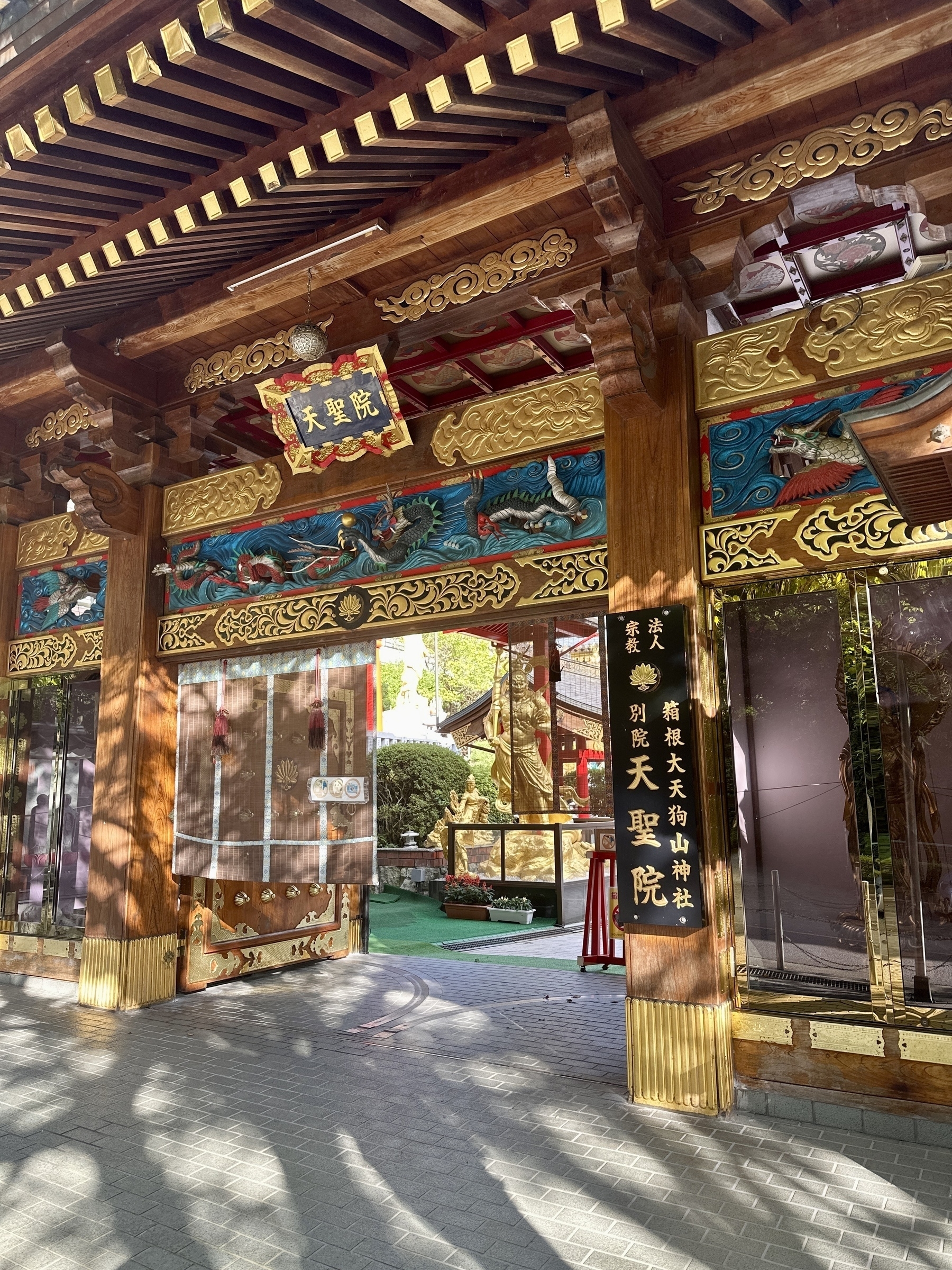 Get pure just before the trail head: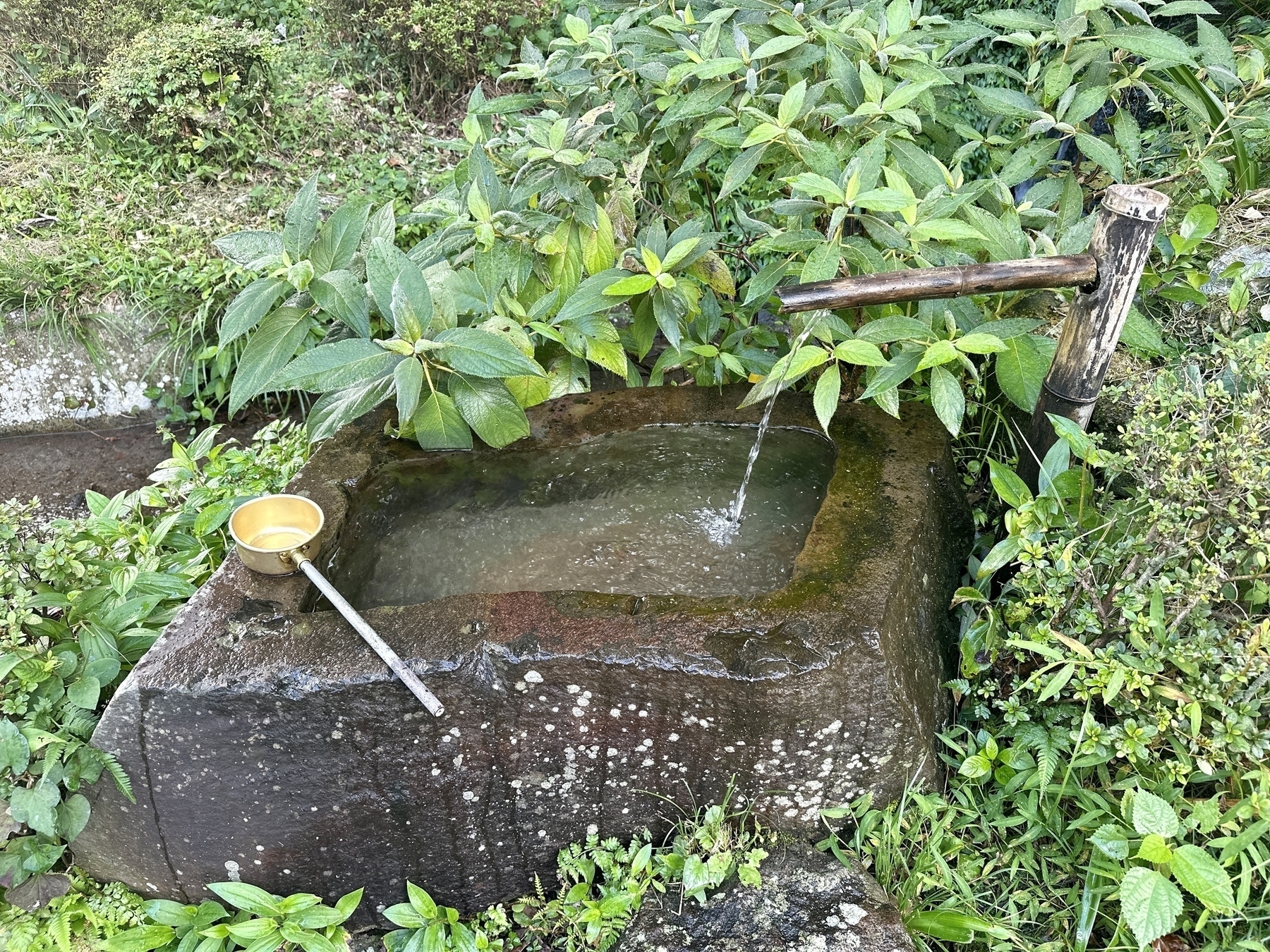 Trailhead: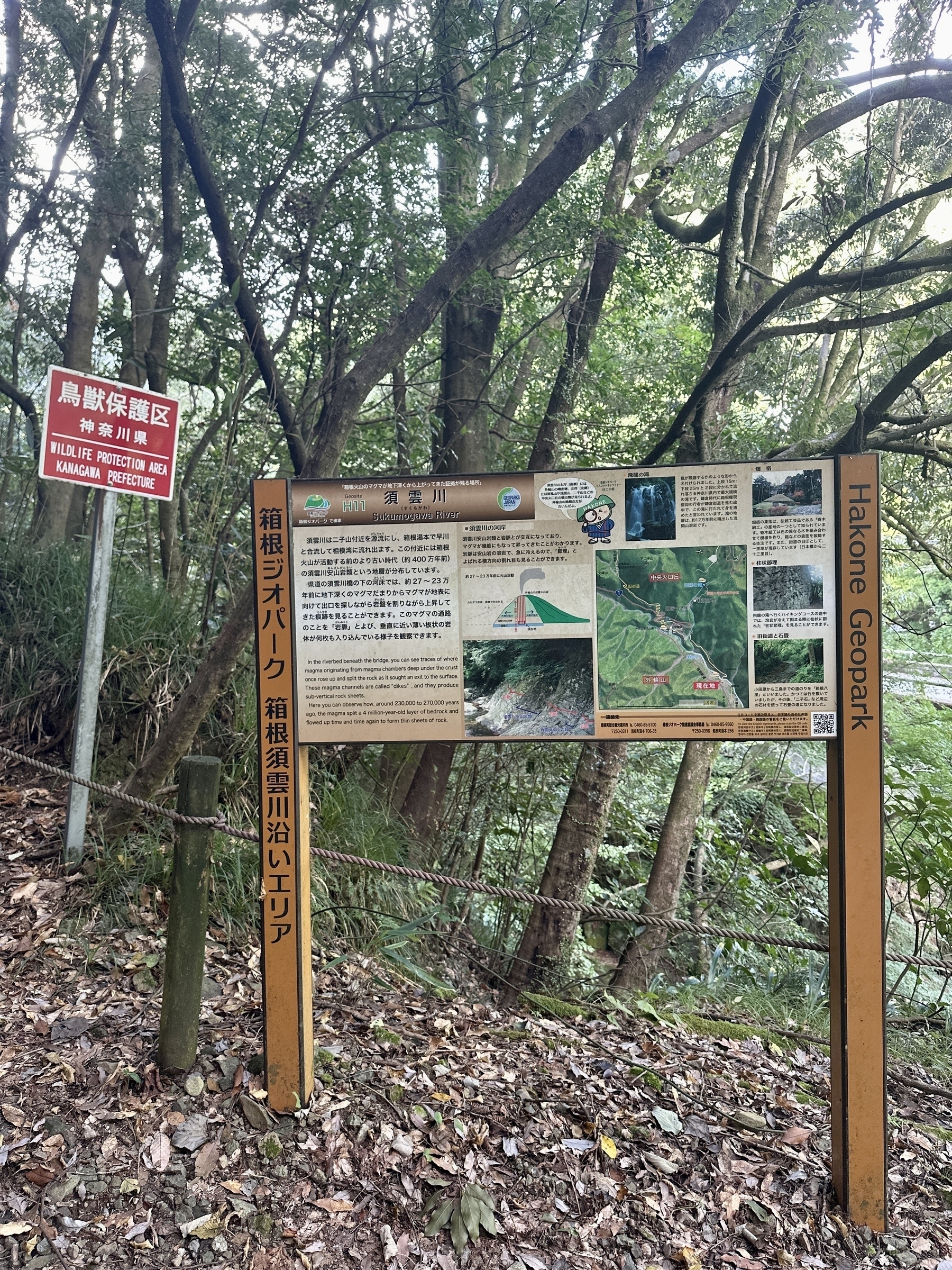 Maruta-bashi across the river, keep your balance!: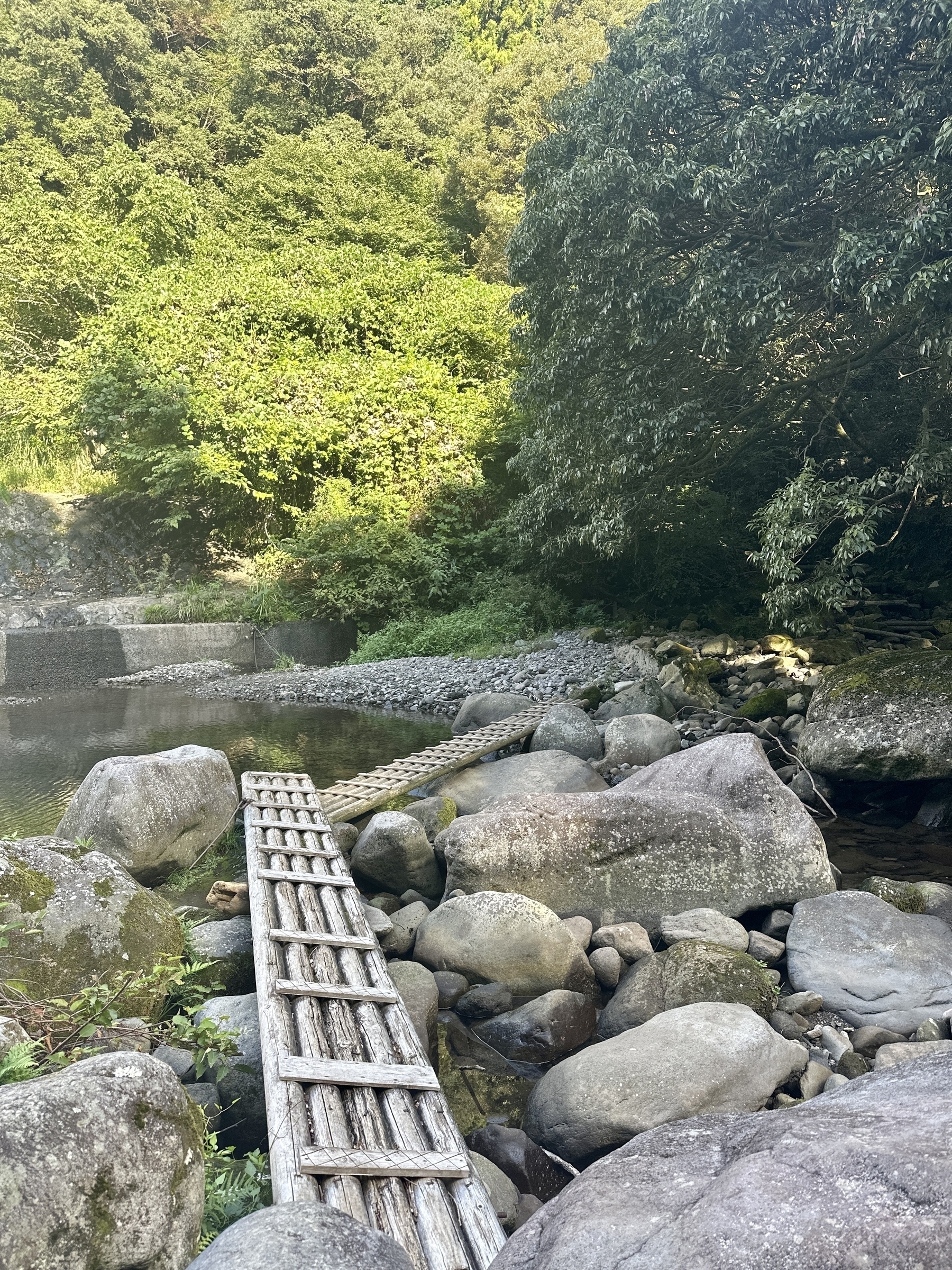 Alternative route a little upstream: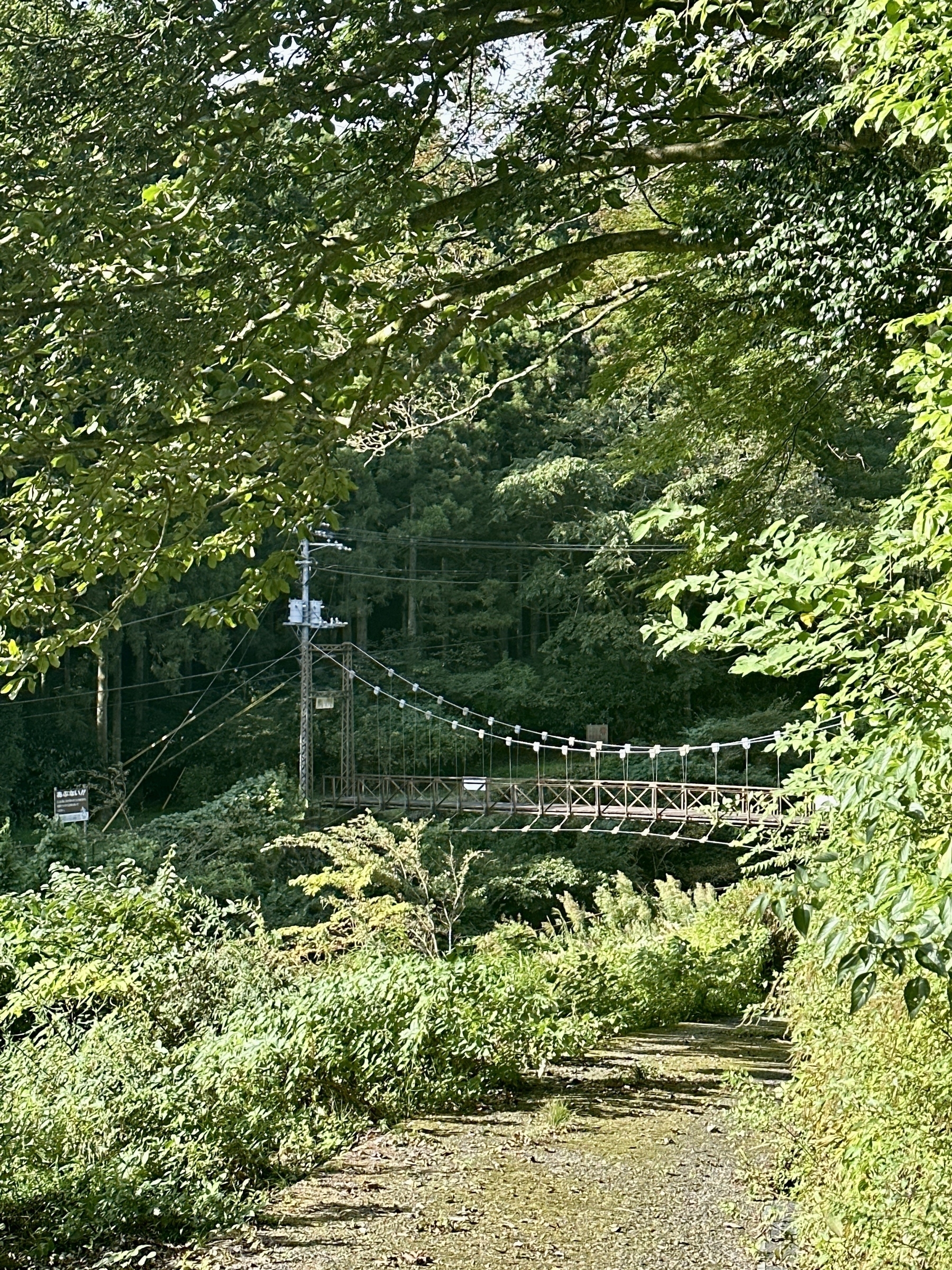 Old Tokaido Cobblestones!: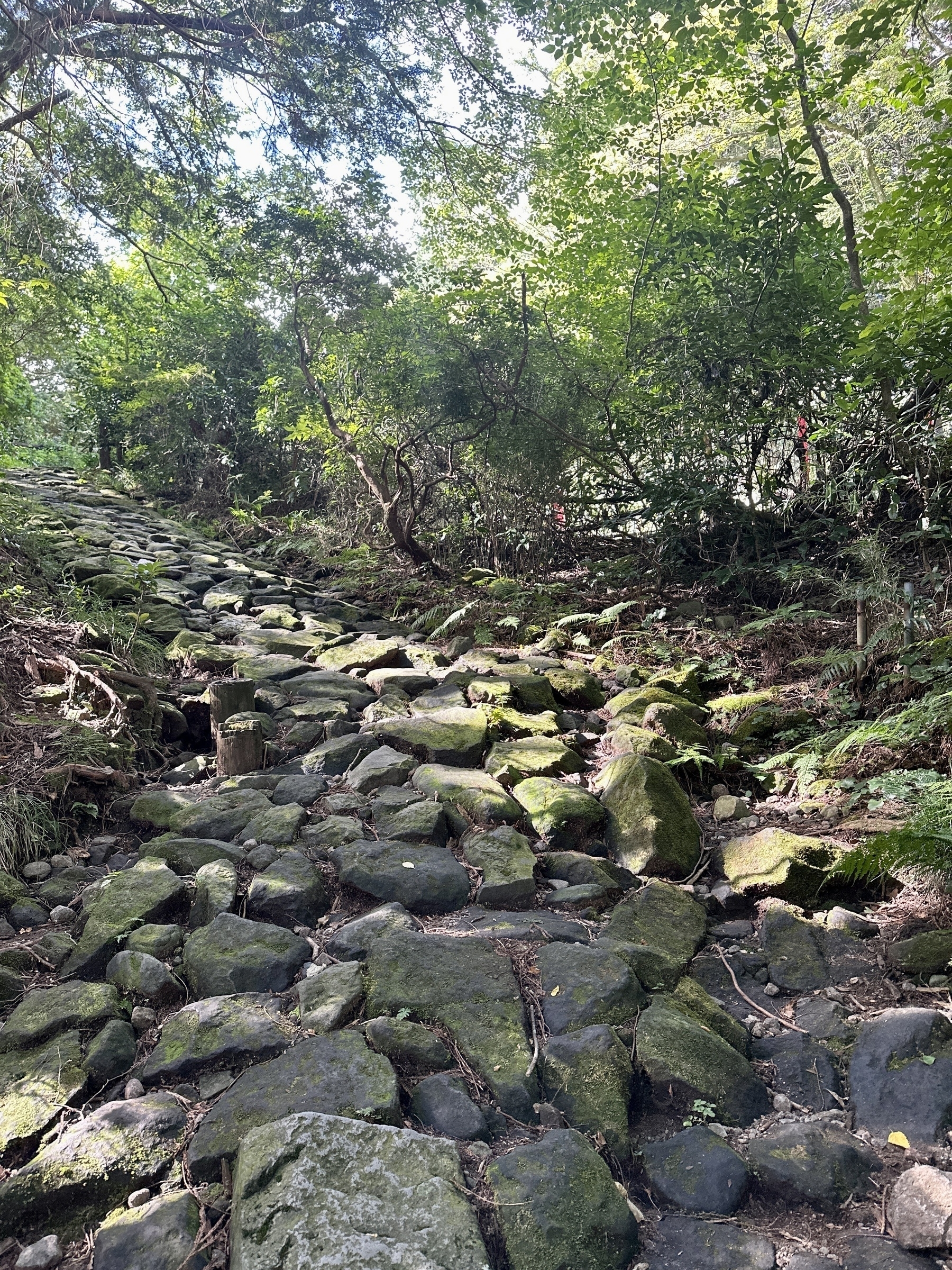 Famous Amazake Chaya shaved ice and iced matcha, with the good luck charm paper they gave me: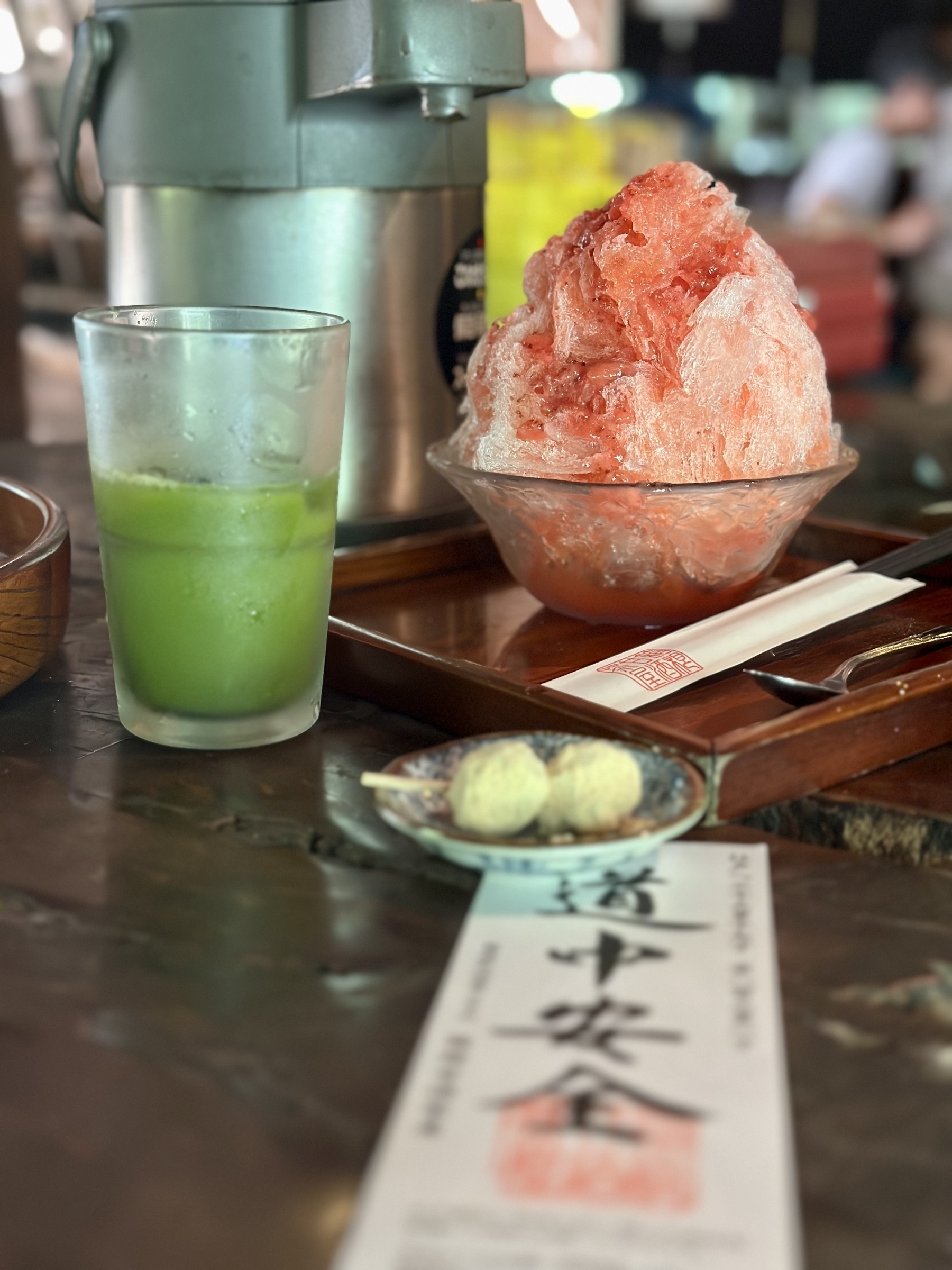 How we built the road cross section diagram: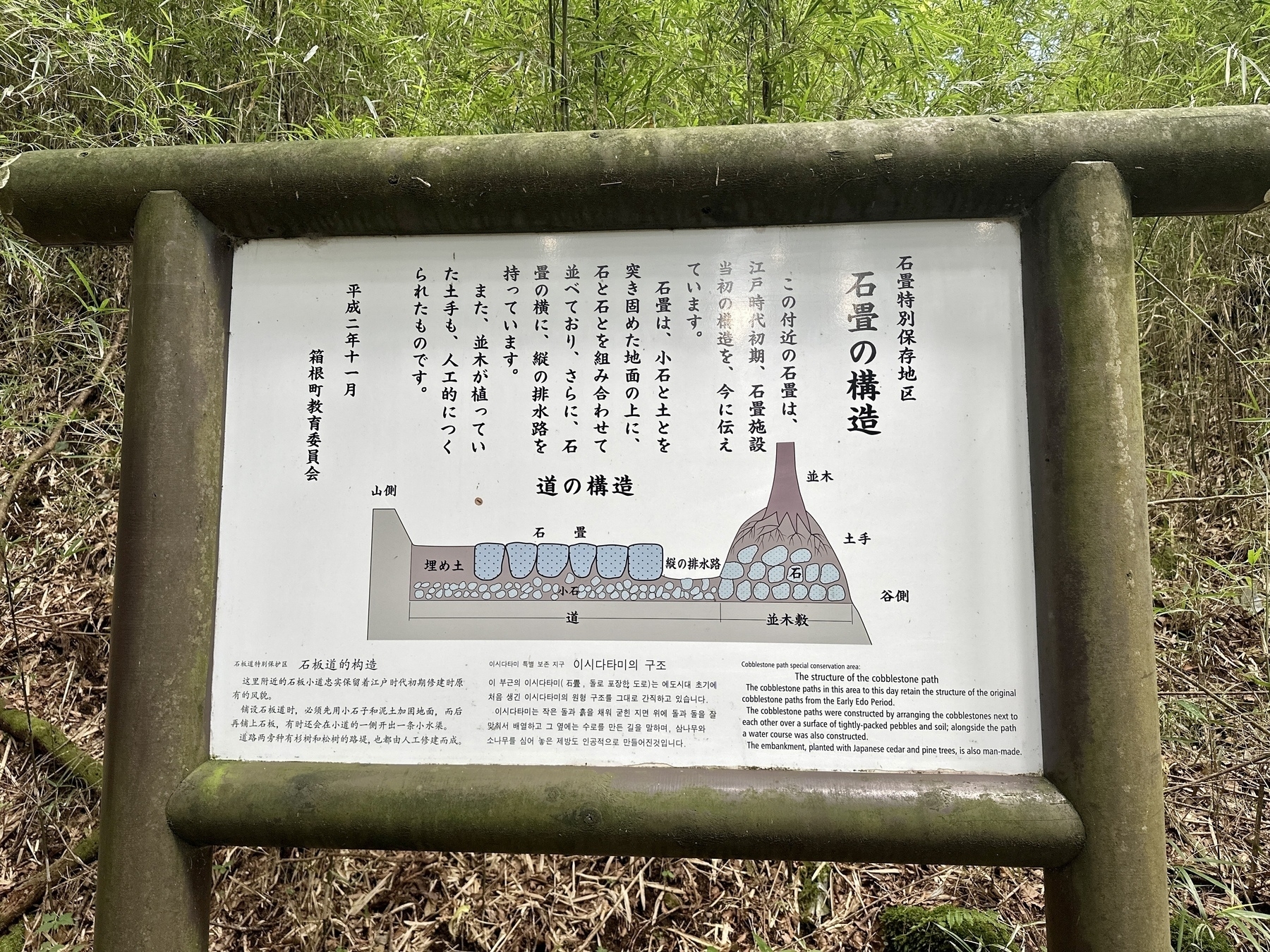 Ashinoko lake!: