∞
Mt. Sengen and Mt. Takanosu - Hiking Hakone
On Sunday 30 July 2023, I challenged myself with a ~10 km solo day hike in Hakone on a hot summer's day, ascending the Yusaka trail from Hakone Yumoto station, ascending 850m over about 7km to Mt Sengen 802m (浅間山 せんげんさん) and Mt Takanosu 834m (鷹巣山 たかのすやま) with the (nonexistent) Takanosu Castle ruins, then descending 400m to the highlight, Chisuji Falls (千条の滝 ちすじのたき) at the 8.5km mark, and proceeding another couple of km over roads to Gora.
Mts Sengen and Takanosu are related, in that Sengen used to be known as "Lower Takanosu" until the Edo Period. A Shinto shrine was built, and it was given the common name "Sengen" (also pronounced "Asama") which you see here and there in Japan. There's one near where I live, a shrine on the highest hill around. When I decided on this hike, I was hoping to see something interesting historically, and while I read that Mt Takanosu is where the ruins of Takanosu castle are located, there's actually nothing there with the sign saying basically "the castle was around here, somewhere". This castle is said to have been the Hojo Clan stronghold to protect against Toyotomi Hideyoshi's attack on Odawara in 1590 (Tensho 18), and since the sign at Mt Sengen also says Takanosu Castle was located there, perhaps both mountains were part of the fortifications.
At any rate, after ~7km of ascending over 2 hours and 20 min, the two summits are pretty enough, but they are kind of nestled amongst other mountains and so unlike Mt Kintoki for instance, there's no spectacular view. There are no toilets or anything else either, just a couple of picnic tables. There were number of wasps flying when I visited, so I didn't linger, just scarfing down a rice ball and some sports drink, and moving along.
The hike up is like other trails in the area, well maintained hard pack dirt with a lot of roots, and some rocks ranging in size from about a baseball to larger boulders. The unique feature of this trail was "paving stones" sections which you can see in one of the photos I snapped. I read a Japanese review of this trail, and the person said the stones are mossy and slippery when wet. They were dry for me, but I could see this being a pretty precarious trail in the rain. The trail is definitely not as rocky as Mt. Kintoki, and there are no areas with chains or ropes needed, but it's a longer ascent of about 850m, compared to the 600m I did when I went up Mt. Kintoki, so you're feeling it by the time you summit.
On critters, there are signs warning about bears, and though I haven't seen a bear in this area, the sign says if you do, stay calm, don't run or turn your back on them, and just leave the area where the bear is. It's not yet wasp season, which is later summer to early fall, but there were a number of wasps flying. Last week on Mt Kintoki, I was serenaded by cicadas, but on this hike, it was bird song punctuated by occasional angry wasp sounds. With wasps, you must avoid black clothing and perfume, and if you encounter any, just stay calm and get out of there, avoiding trying to swat at them.
Especially around the summits of Sengen and Takanosu, the trail is really pleasant with grasses along the way, and I can imagine this hike is especially lovely in November. I could see momiji and sakura trees, so depending on the time of year, it's got to be breathtaking. I can imagine that allergy season would be a challenge though, with all the cedar trees!
While descending I was feeling like I should have gone for a hike with a better view, but, when I got to Chisuji falls, it was all worth it. What a beautiful place, and my photos don't do it justice. As you approach, you can hear the river and falls, and the trail bottoms out at a bridge, which when crossed is right there at the falls. A friendly older lady hiker was there when I got there, and she rinsed her face in the pool of water at the falls, so I did the same. It was ice cold, and perfect after that long hike. The falls are close to the road, and so are accessible to families with kids. A couple and there young child came up the road to take a look just as I was leaving.
From the falls, it quickly turns to concrete roads as you go down to Kowakidani station, then on to Gora. It was a super hot day, so I got a cold drink at a vending machine, and had a quick toilet break at the toilet near the combini (marked on the Google map). At Gora, I had a cold strawberry dessert to cool down, then took the train down to Tonosawa. From there, I walked to Hakone Yuryo, a day-spa onsen for a post-hike soak and a meal. (It's a fantastic facility, but like many others, they don't admit people with tattoos FYI) From Hakone Yuryo, I used their convenient shuttle to go to Hakone Yumoto, then took the funicular to Odawara and drove back home.
At any rate, if you're interested, you can see the route I hiked, from my Yamareco activity URL map. See you out there on the trail some time! 🌋
---
See the photo gallery and Yamareco activity record.
Route map, click for Google Maps: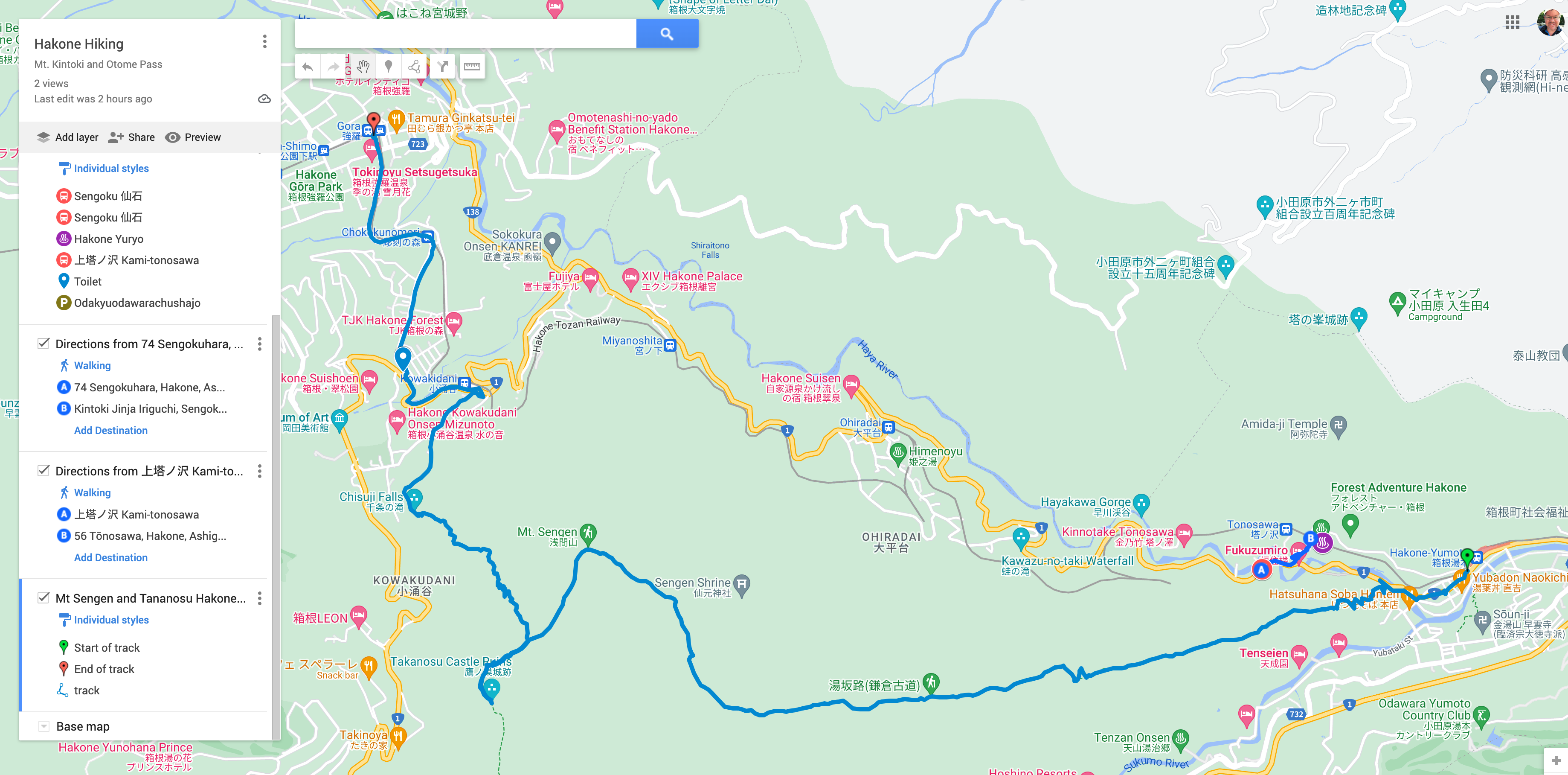 Yusaka-michi trailhead near Hakone Yumoto Station: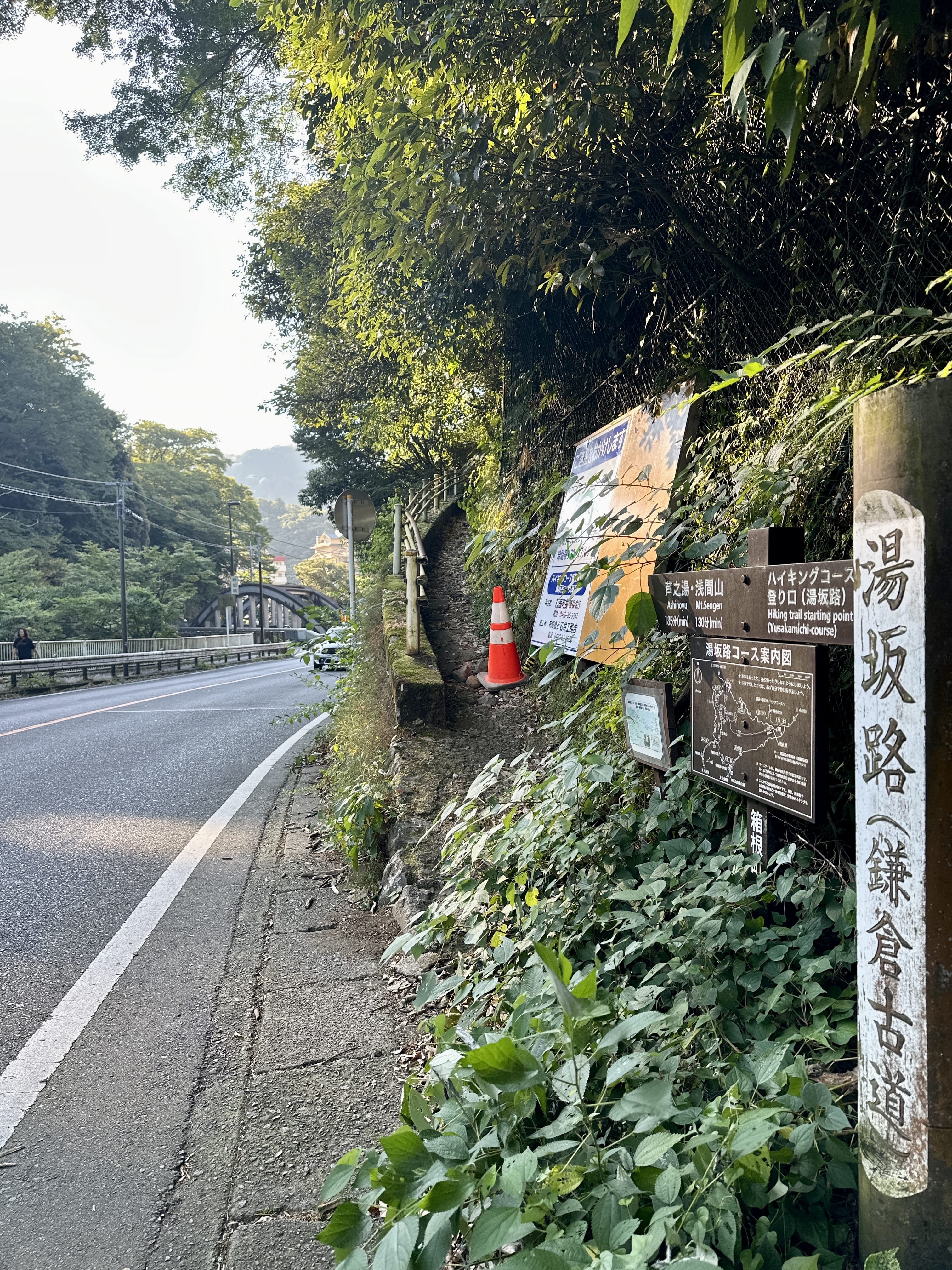 Paving stone section on Yusaka-michi: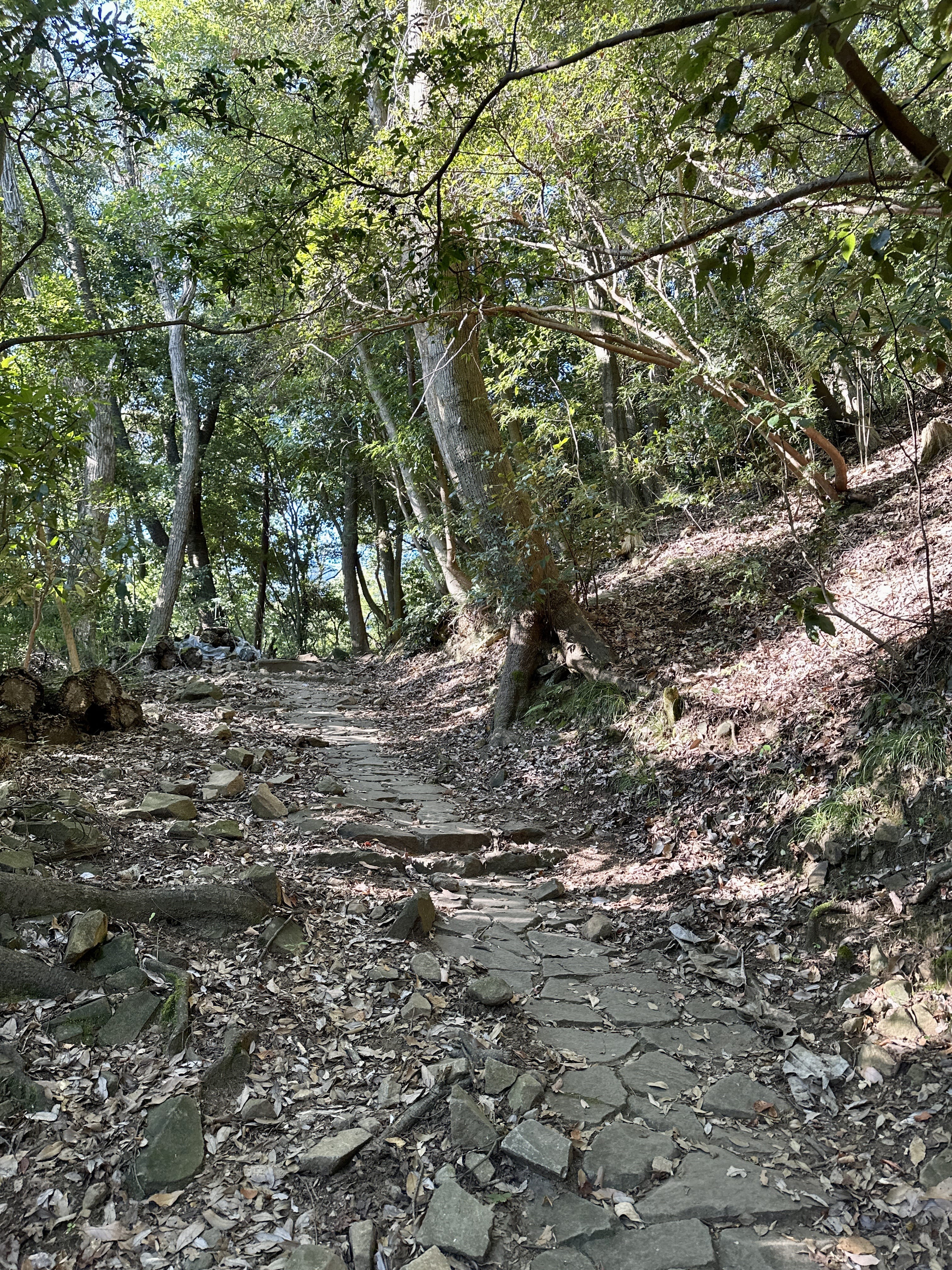 Summit of Mt. Sengen after 2 hr 20 min climb:
Chisuji falls was more refreshingly dramatic than this photo suggests: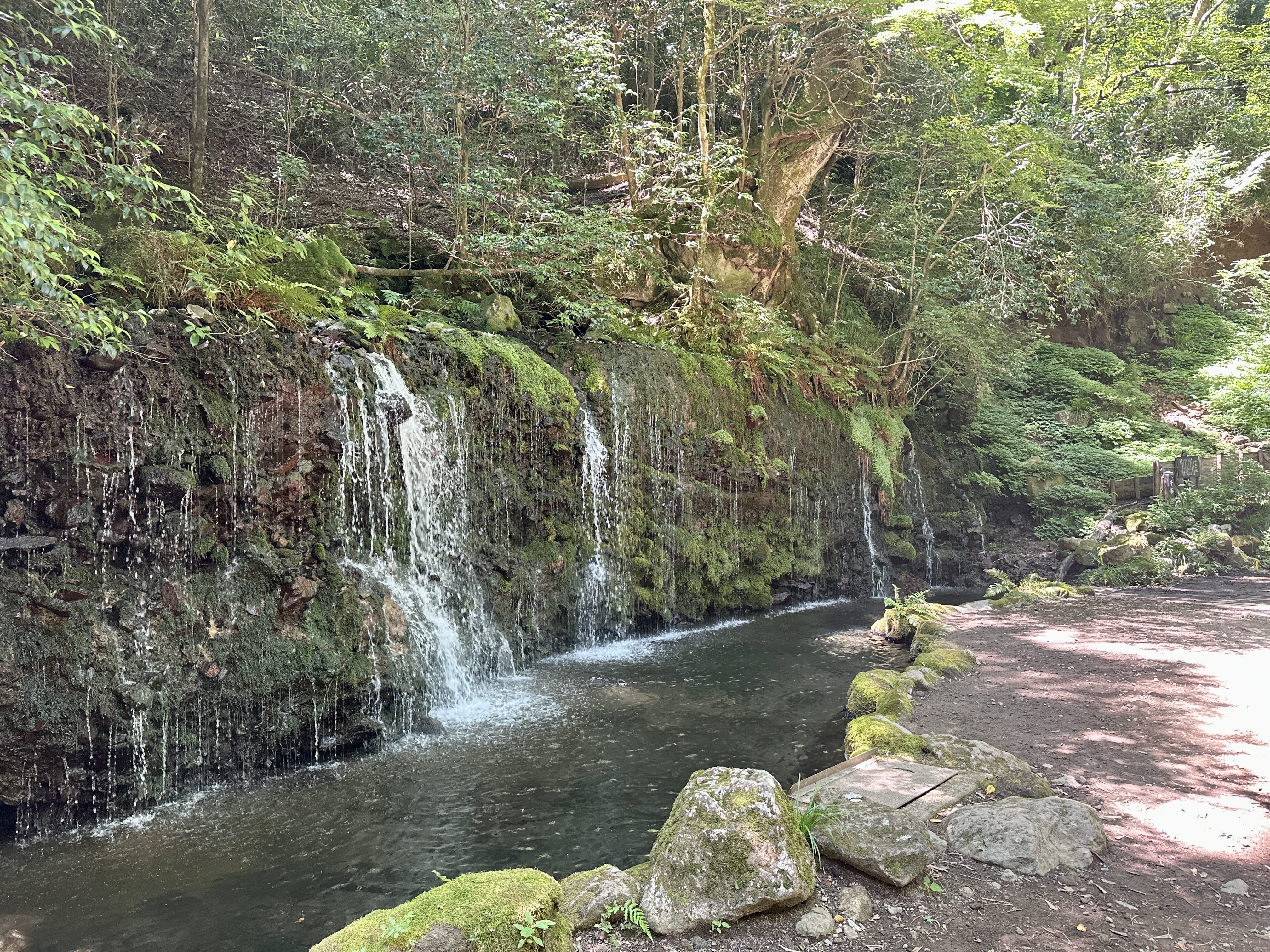 Milk-after-bath promotion at Tonosawa station: