On Saturday 22 July 2023, I challenged a solo day hike up Mt Kintoki (金時山 きんときさん) in Hakone, on a perfect day for hiking, and was rewarded with incredible views from the summit. This mountain has maybe the best view of Mt Fuji, too. It was a good physical challenge for this 57 yr old who mostly jogs and walks the dog. My legs held up better this time compared to my first adventure up Mt Kurobi in Gunma, probably because I've tried to be more active since then, doing several less-challenging hikes in the meantime.
Mt Kintoki at 1,213m is another "beginner" mountain, and the 6.2km route I slowly hiked over about 5 hours with breaks, had an elevation change of +-620m , but unlike Mt Kurobi, it gets steep near the top, with some areas having ropes or chains like an easy graded "via ferrata". I didn't feel panic in any areas, but there were a few spots where you could get seriously injured if you fell. I helped a fellow middle aged guy get up after he slipped coming down. He was fine, but he and his climbing partner both looked exhausted, and it made me nervous.
The mountain's formal name is Mt Ashigara (足柄山 あしがらさん), but most people call it Mt Kintoki, from the legendary warrior Kintoki Sakata, aka "Kintaro" (金太郎 きんたろう) who grew up on the mountain. Part-way up from the shrine trailhead, you can see a massive boulder that is said to have been split by Kintaro with his axe (now that's bad-ass). There's also an axe prop at the summit, so you can make like the folk hero. Additionally, as this is one of the most climbed mountains in Japan, the routes are well-maintained, and there are bio toilets (100 yen to use) and tea shops serving light food and drink and selling souvenirs at the summit. Read more in English here and here.
The trail is well maintained indeed, but note that it's rather rocky in many parts. I did this hike in "trail shoes", but I could feel my feet getting a little bruised up here and there. I probably would have worn my hiking boots if I were going after a rainy period. The trail is hard pack dirt with a lot of roots, and rocks ranging in size from about a baseball to larger boulders. You ascend stepping on or between the large rocks, onto placed logs, or using tree roots as steps, helping yourself up with the occasional fixed rope or chain. There were some areas with big piles of smaller baseball-sized rocks, which looked to just be there to try to have a more "tidy" trail with fewer slip hazards. The rocks themselves appear to be either granite or volcanic "pumice"-like rock.
I started at the Shrine trail head, and looking at the signs for Mt Kintoki there, it gave a time of 75 min to the summit, but someone had cheekily scrawled a "90" with a paint pen. I imagine the people who maintain the trails and are involved in the sign-making, are more experience hikers than the rest of us schlubs. It took me about 90 min up to the summit, where the view was just fantastic. You can use the toilet for 100 yen, or get a light meal at one of the two Chaya (茶屋). I got shaved ice with stewed sweet beans with (I think) condensed milk, saving the rice ball I'd bought for later. The guys who were working in the Chaya were friendly and spoke some English. An old regular came in, plopped down his two bamboo sticks he was using as hiking poles, and started helping the fellows behind the counter. They asked me to sign their English guestbook so I did, but I imagine nobody can read my chicken scratches.
After about 30 min rest, it took another 60 min to get to Mt. Nagao (長尾山 ながおさん) a smaller peak on the way down, then 30 min to Otome Pass (乙女峠 おとめとうげ) where I had another brief rest and ate, then a final 70 min to Otome Trailhead (乙女口 おとめぐち) where I exited onto route 138. While there are indeed bus stops near there, the Sengoku bus stop with frequent service back to Hakone Yumoto, is a couple km down the road.
On access in general, there are a few ways to get there, even a bus out of Shinjuku that goes directly down to the Hakone area. Because I live relatively close to the area, I took JR down to Odawara, then got the T-line Tougendai Bus (T桃源台線バス とうげんだいばす) from outside Odawara station, which goes up the mountain via Hakone Yumoto. It's a ~40min trip up winding roads to the Sengoku Bus Stop (仙石 せんごく), and then a 1km walk from there to the trailhead at Kintoki Shrine. There's a convenience store between the bus stop and the trailhead as well, so you can buy energy gels or protein bars etc. Note you can take the funicular train from Odawara, but you'd have to transfer to the same bus anyway at Hakone Yumoto, so it's easiest to get on at Odawara. Coming back, though, I got on the bus at Sengoku and got off part-way down at Kami-Tonosawa, then walked from there to Hakone Yuryo, a day-spa onsen for a post-hike soak and a meal. (It's a fantastic facility, but like many others, they don't admit people with tattoos FYI) From Hakone Yuryo, I used their convenient shuttle to go to Hakone Yumoto, then took the funicular to Odawara and went back up on JR.
While it's assuredly "touristy", a bit like Mt Takao, Kintoki's climbable even in winter without too much trouble. Anytime you're in the mountains, however touristy it may seem, you still need to be prepared. I always bring a small emergency kit, extra clothes and rain gear, and enough food. It might be an exaggeration but "better safe than sorry", right? At any rate, if you're interested, you can see the route I hiked, from my Yamareco activity URL map. Hope to see you on the trail some time! 🌋
---
See the photo gallery and Yamareco activity record.
Route map, click for Google Maps: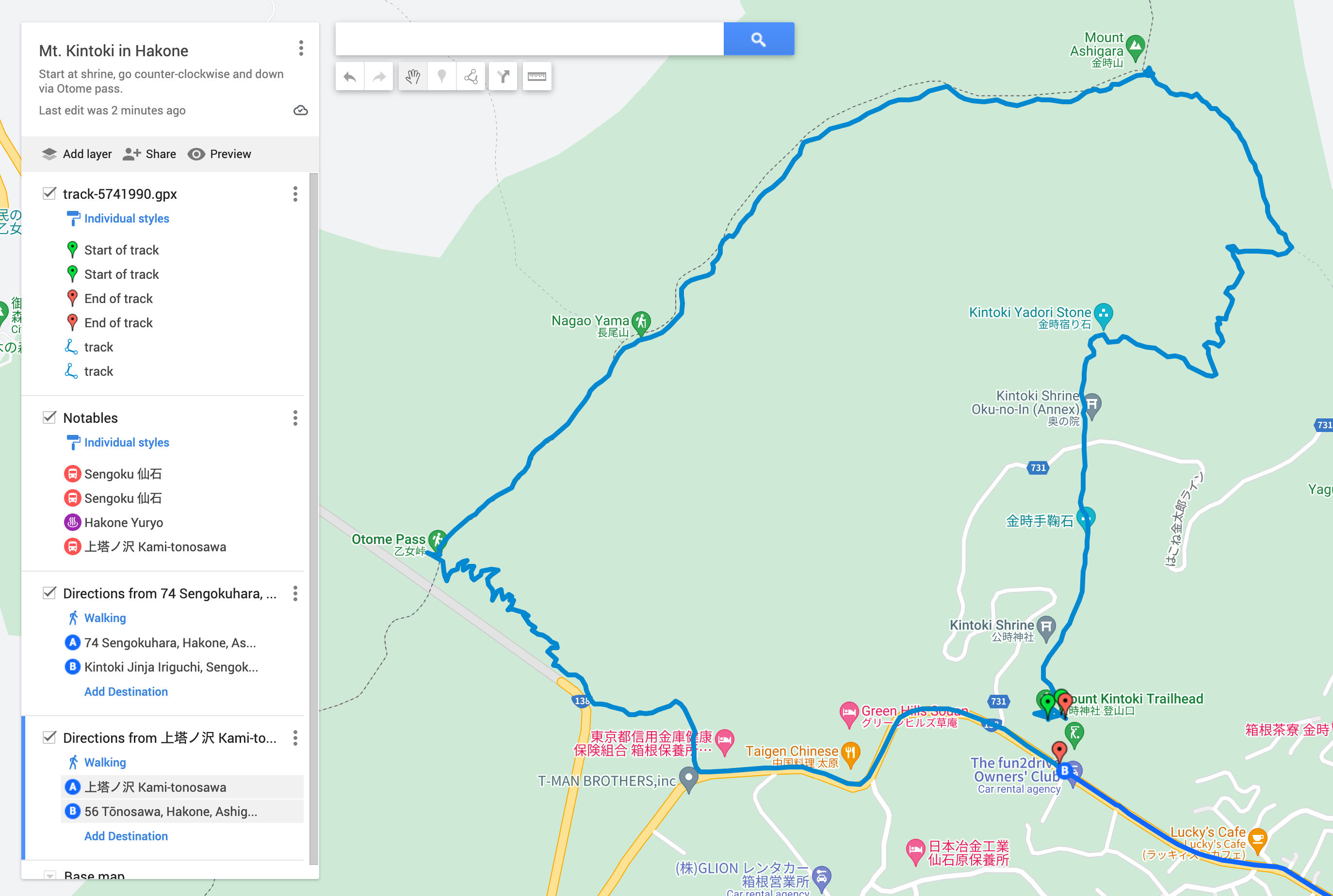 Crowing roosters near the trailhead: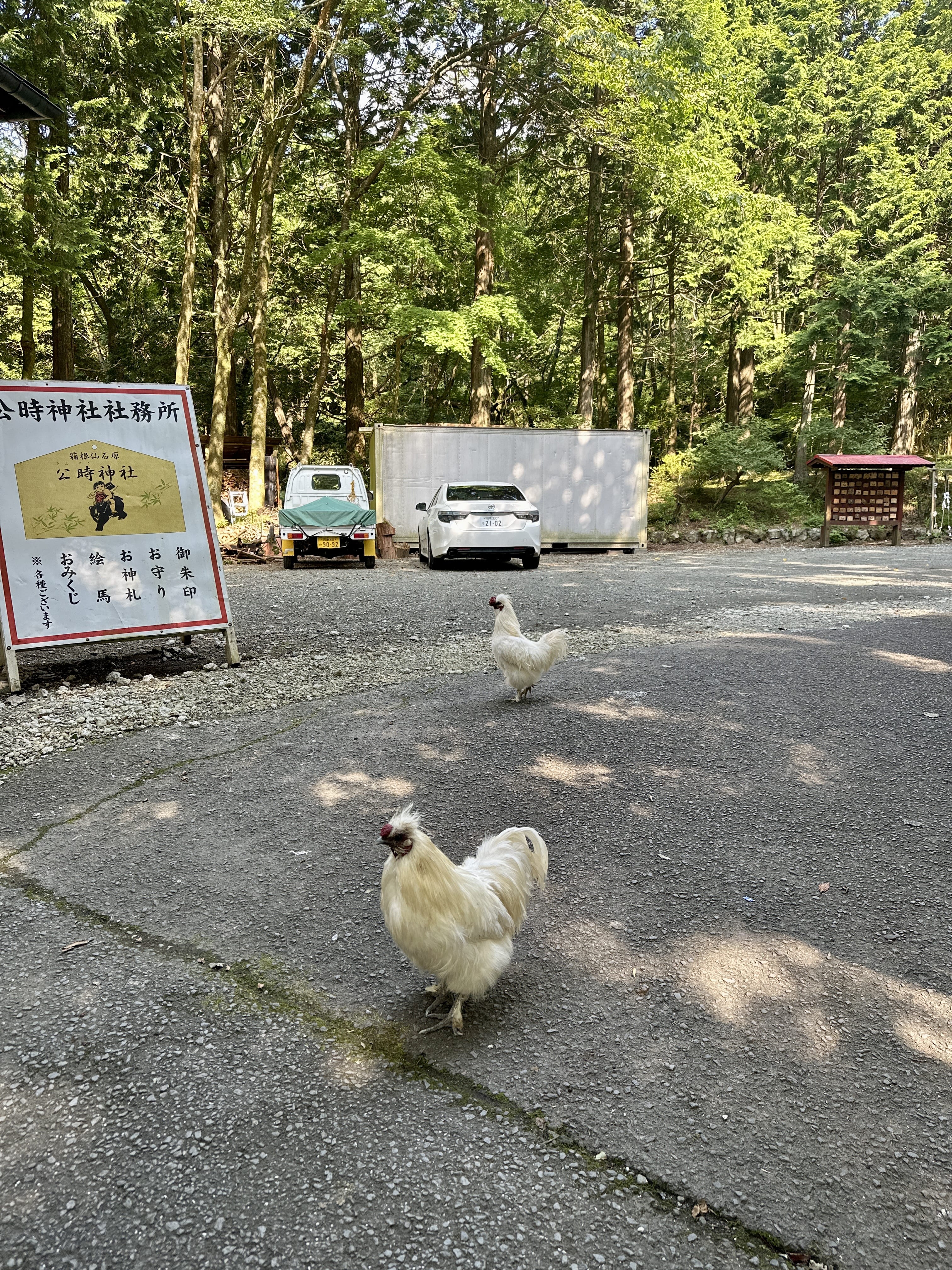 Trail conditions were generally rocky like this: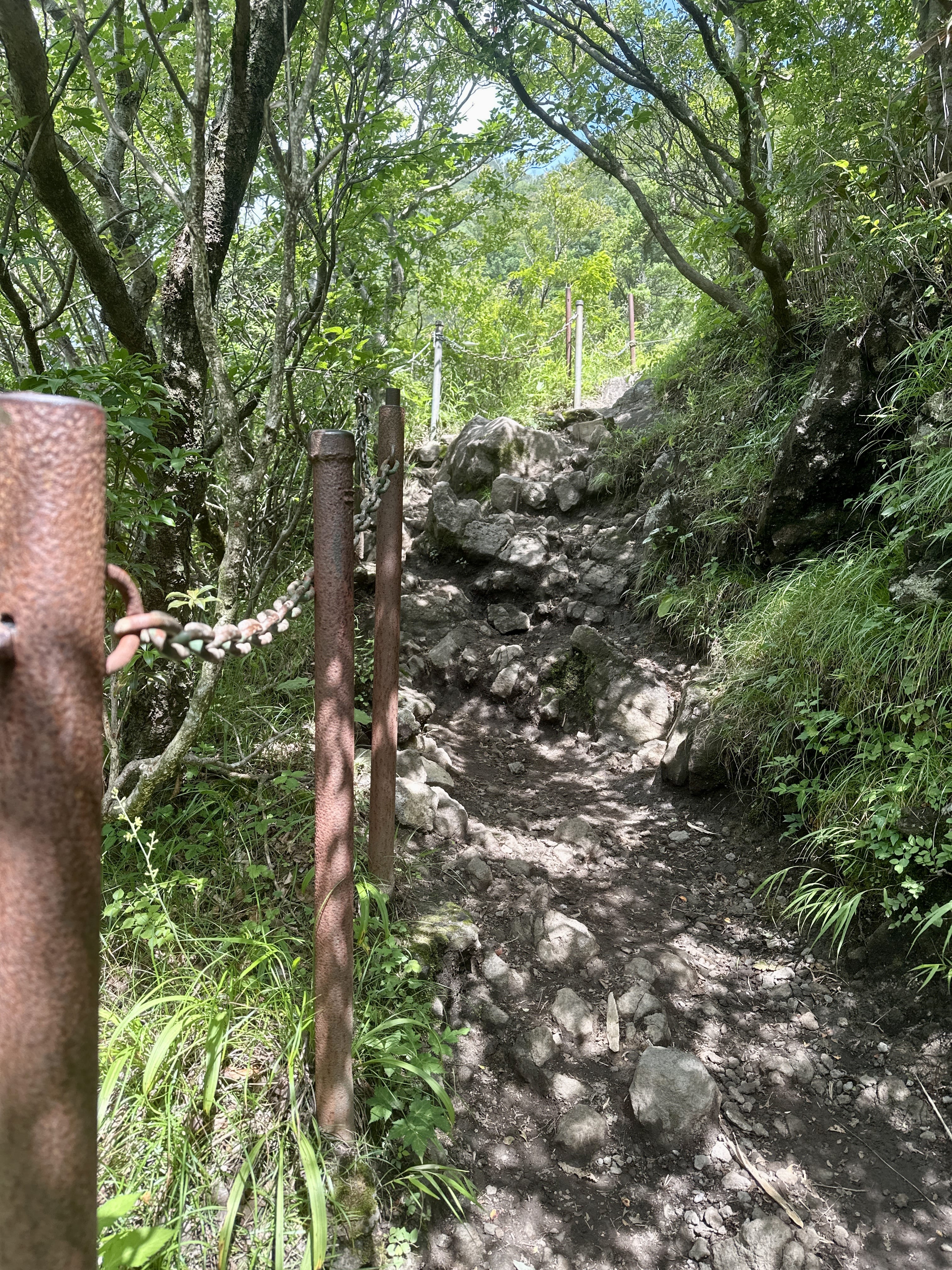 Summit of Mt. Kintoki:
Summit Chaya shaved ice: